Pfizer Tries Out New Technology and 4 Stocks At 52-Week Highs
Acuity Brands (NYSE:AYI): Closing price $71.84
Acuity Brands Chief Executive Vernon J. Nagel has commented that "third-party forecasts and leading indicators suggest that the North American lighting market will increase in the mid-single digits during the remainder of fiscal year 2013. While we expect to see some volatility in demand among certain sales channels and geographies, our expectation for the second half is that overall demand in our end markets will continue to improve and be more consistent and broad-based. The favorable trend in our March order rates reflects this improvement.We believe the lighting and lighting-related industry will experience solid growth over the next decade." Shares closed up 5.26 percent on Wednesday at $71.84, and have been traded in a 52-week range of $48.11 to $73.48.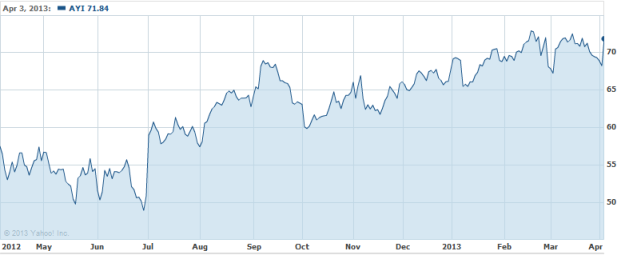 Conn's (NASDAQ:CONN): Closing price $39.01
The firm estimates its fiscal same store sales up between 3 and 8 percent, and new store openings from 10 to 12. Also, retail gross margin should be between 35.5 and 36.5 percent. Shares closed up 8.12 percent on the day at $39.01, having been traded in a 52-week range of $14.40 to $37.91.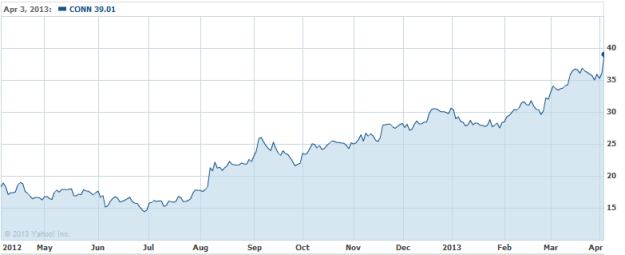 HealthSouth Corp. (NYSE:HLS): Closing price $26.49
HealthSouth has purchased land, and intends to to build a new approximately 54,000-square foot inpatient rehabilitation hospital in Modesto. Connected with these plans, HealthSouth acquired 5.5 acres of land located at the northeast corner of Coffee Road and Mable Avenue in that city. The development should represent a $28 million investment in the community, and once fully operational, about 100 full-time jobs. Shares closed down 3 percent on Wednesday at $26.49, and have been traded in a 52-week range of $18.44 to $27.39.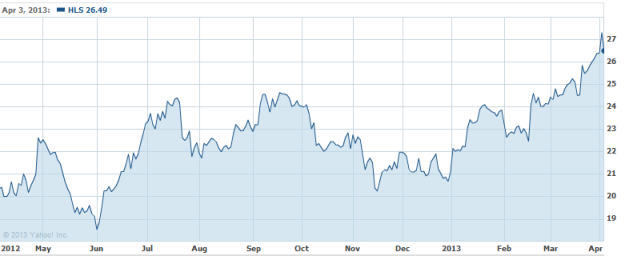 Obagi Medical Products (NASDAQ:OMPI): Closing price $25.19
Obagi and Valeant Pharmaceuticals International (NYSE:VRX) have made an amendment to their Agreement and Plan of Merger, dated March 19, through which Valeant increased its bid from $19.75 to $24.00 per share, to purchase all of the outstanding common stock of Obagi  in cash. The latter's board unanimously okayed the amended transaction, and recommends that Obagi stockholders tender their shares in accordance with the terms of the amended merger agreement. The expiration date of the tender offer will remain 12:00 midnight, Eastern time, on April 23. Shares closed up 10.1 percent on the day at $25.19, having been traded in a 52-week range of $10.70 to $22.96.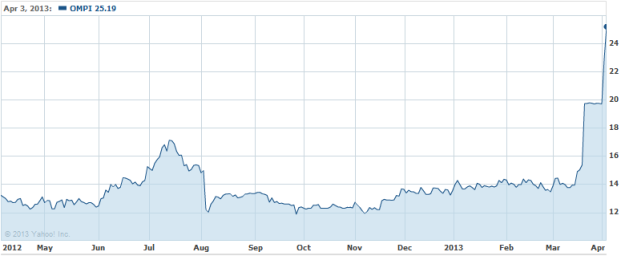 Pfizer (NYSE:PFE): Closing price $29.03
Tetragenetics will collaborate with Pfizer with an option for an exclusive license for SionX. The SionX tech permits high density expression of recombinant human ion channels on the cell membranes of Tetrahymena thermophila. Immunogen preparations of the ion channel are created to enhance antibody production against the extracellular portions of the ion channel target. Shares closed down 0.68 percent on Wednesday at $29.03, and have been traded in a 52-week range of $21.40 to $29.32.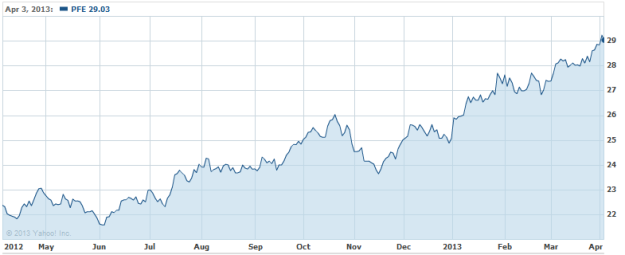 Don't Miss: Was Wednesday a Warning For the Markets?