Pfizer Wins Big Settlement From Teva and 3 More Hot Stocks
Pfizer Inc. (NYSE:PFE): Pfizer and Takeda pharmaceuticals have obtained a $2.15 billion settlement from Teva (NYSE:TEVA) and India's Sun for breaching a patent of Pfizer's and  Takeda subsidiary Nycomed's acid reflux medicine Protonix. Pfizer will receive 64 percent of the money, while Takeda will be awarded the remaining 36 percent.  Teva will pay $1.6 billion of the $2.15 billion, and Sun will make up the remaining $550 million.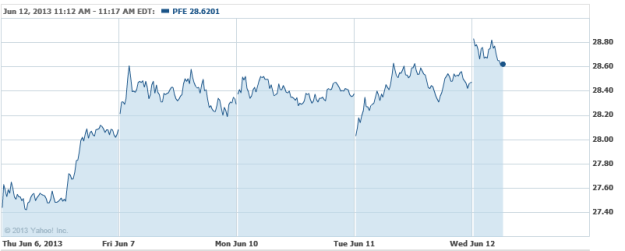 PepsiCo (NYSE:PEP): Pepsi has joined the ranks of international companies flowing into Myanmar, as it plans to distribute snack food in the country this year, on top of the Pepsi-Cola, 7-Up and Mirinda brands that it already has established in the region that was previously closed off to Western investment. PepsiCo plans to invest in local agriculture to lower its costs over the long-term, keeping in line with the trends.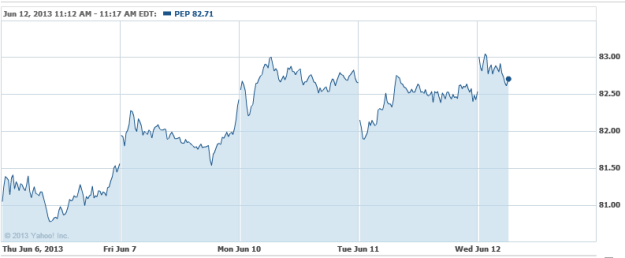 Herbalife Ltd. (NYSE:HLF): The company released the results of a Nielsen report that show that 3.3 percent of the U.S. population has purchased the company's products within the past 3 months, indicating about 7.9 million costumers against a distributor network of just about 550,000. A request for the full report made by Herb Greenberg was awarded with a response from the company, although it was a simple "No, sorry."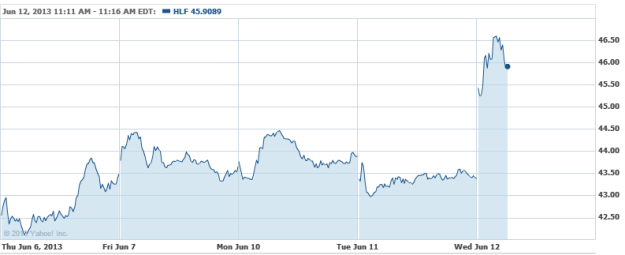 Caesars Entertainment (NASDAQ:CZR): Caesar's has secured the rights for the World Series of Poker app, available for iOS and Android platforms and published by Electronic Arts (NASDAQ:EA). It's a big step towards the company's growing mobile strategy, which it is hoping to cash in on given it has been left behind its competition.

Don't Miss: Does Obamacare Mean Fewer Doctors and Less Accessible Healthcare?