Pfizer's Big Studies and Top Stories Affecting Dow 30 Healthcare This Week
UnitedHealth Group (NYSE:UNH): Current price $58.88
The Group and its benefits and services units, UnitedHealthcare and Optum, are taking immediate action to assist the inhabitants of the Iowa and Illinois counties impacted by the recent floods. The measures include a free emotional-support line; assisting health plan participants who might need access to care or early refills of prescription medications; and support of the American Red Cross Disaster Relief Fund, assists people in the affected communities.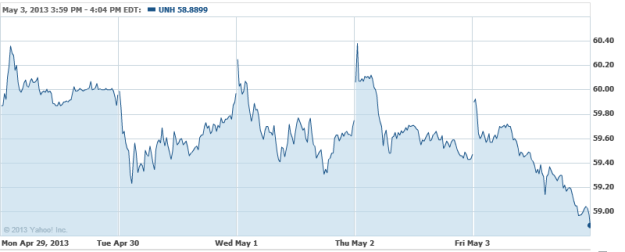 Pfizer (NYSE:PFE): Current price $28.94
On Saturday, Pfizer presented the results from a Phase 3 study examining immunogenicity, tolerability and safety of Prevenar 13 (Pneumococcal polysaccharide conjugate vaccine [13-valent, adsorbed]) in adults 18 between 49 years of age. The study attained all primary and secondary objectives, and establishes the clinical foundation for the firm's regulatory submission in the European Union and planned regulatory submissions in the United States and other countries worldwide to seek expansion of the use of Prevenar 13 to include adults 18 to 49 years of age. These results were presented at the 23rd European Congress of Clinical Microbiology and Infectious Diseases in Berlin.
A large observational evaluation found no increased risk for cardiovascular events connected with azithromycin (Zithromax) in a general population of young and middle-age adults. Danish investigators report, in a paper published  in the New England Journal of Medicine, the results of a sizable national observational study comparing persons who took azithromycin, along with matched controls who took no antibiotics, and with matched controls who took penicillin V for similar indications. There was seen a significant increase in the risk of death from cardiovascular causes in people taking azithromycin compared with people taking no antibiotics, but there existed no increase in risk when compared to people taking penicillin V.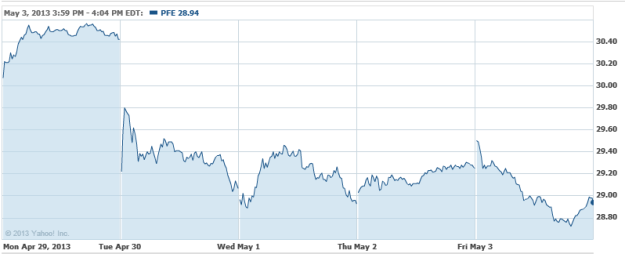 Merck & Co. (NYSE:MRK): Current price $45.63
The number-two domestic drugmaker said that a jury decided in its favor in a trial concerning claims that its Fosamax osteoporosis treatment caused a woman's femur to fracture spontaneously as she was gardening. The verdict was handed down in federal court in Trenton, New Jersey, according to a Merck statement, but it could not immediately be confirmed in court records. This case is the first of roughly 3,300 femur-fracture lawsuits against the firm to be decided by a jury. Bernadette Glynn sued Merck regarding claims that the firm was aware that Fosamax might cause brittle bones and thus increase fracture risks, years prior to the drug being available to the public.

Don't Miss: Analyst: Apple Love Is Like Muscle Memory.
Johnson & Johnson (NYSE:JNJ): Current price $85.76
Janssen R&D Ireland and Johnson & Johnson supplied a pre-recorded webcast for investors and other interested parties on Friday, at approximately 8:30 a.m., Eastern Time, through which to discuss simeprevir phase 3 clinical data presented at The International Liver Congress of the European Association for the Study of the Liver. A pre-recorded webcast featuring management from Janssen will give an overview of results from the phase 3 QUEST -1 and QUEST-2 evaluations of the investigational protease inhibitor simeprevir (TMC435), administered once daily in combination with pegylated interferon and ribavirin in treatment-naive genotype 1 chronic hepatitis C patients.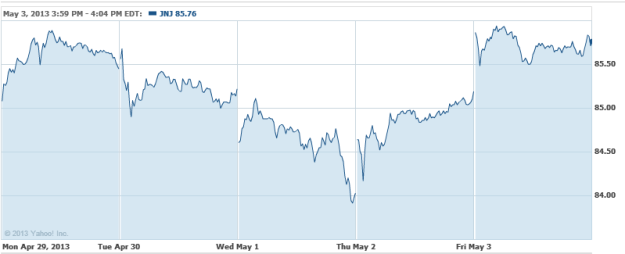 Investing Insights: Can CVS Compete With Walgreen in This Different Arena?