Pfizer's Mixed Quarter, Lockheed's Pave Hawk Contract, and 3 More Hot Stocks
Pfizer Inc. (NYSE:PFE): Pfizer shares are trading up after the pharmaceutical maker announced earnings per share of 58 cents, beating projections by 2 cents, and $12.64 billion in revenue, missing by $0.05 billion. Primary Care slid 10 percent to $3.26 billion, Emerging Markets rose 2 percent to $2.43 billion, Established Products dropped 4 percent to $2.3 billion, Consumer Healthcare gained 1 percent to $788 million, and Oncology surged 24 percent to $407 million.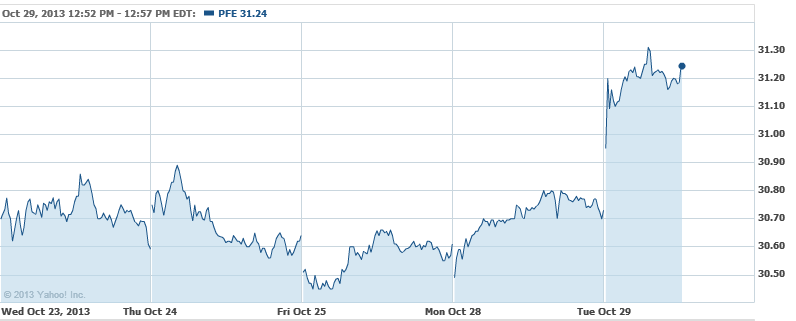 Lockheed Martin (NYSE:LMT): Lockheed Martin has landed a $113 million U.S. Air Force contract to design, field, and sustain the training simulators for HH-60G Pave Hawk search and rescue helicopters. Lockheed will deliver eight of the simulation units under the deal, which will be used to prepare aircrews for the full spectrum of personnel recovery including combat search and rescue missions in multiple environments.

Google Inc. (NASDAQ:GOOG): Google's smartwatch is apparently in the late stages of development, and discussions with Asian manufacturers to begin mass production have already started. A source indicated that the unit "could be ready for mass production within months," but it doesn't seem as though the watch will arrive in time for the holiday season. The Wall Street Journal has noted that Google Now's push notification services will be tightly integrated, and that Google has made long battery life a priority.

Vertex Pharmaceuticals Inc. (NASDAQ:VRTX): Vertex shares are down as the company reports EPS of -32 cents, beating by 2 cents, and revenue of $221.7 million, which missed by a substantial $54.68 million. Vertex is "reducing its workforce related to the support of Incivek following the continued and rapid decline in the number of people being treated with [the drug] as other new medicines for hepatitis C near approval." Incivek sales brought in just $86 million, well under the $125 million consensus.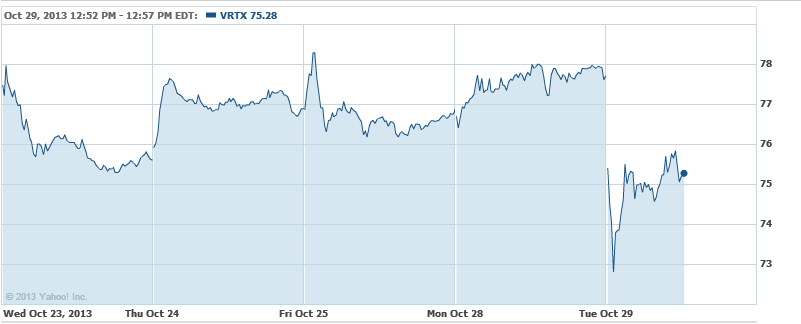 Cobalt International Energy (NYSE:CIE): Cobalt's reported EPS of -12 cents — beating estimates by 4 cents — helped contribute to a share rally for the company, now down to 3 percent or so gains. The Lontra #1 well has reached its total depth, and the drilling and evaluation results confirm an oil and gas discovery. Meanwhile, the Mavinga #1 well reached total depth as well, and encountered about 100 feet of net oil pay, though mechanical issues prevented a successful flow test.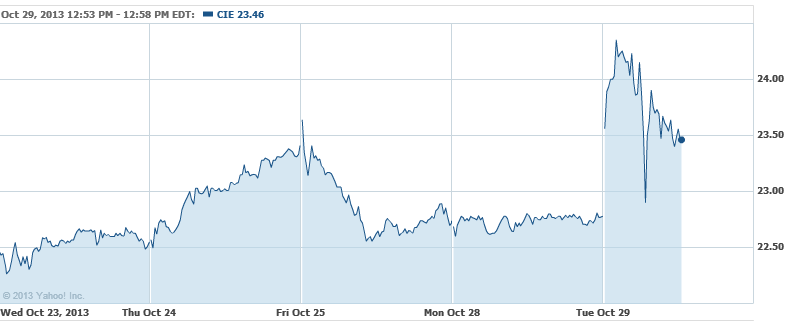 Don't Miss: Pfizer Needs a New Prescription After Third-Quarter Results.