Pfizer's Setback and 5 Top Stories Affecting Dow Healthcare Stocks This Week
UnitedHealth Group Incorporated (NYSE:UNH): Current price $62.04
UnitedHealthcare Community Plan has enlarged its New York State government-sponsored health insurance programs to include 13 more counties in the Hudson Valley, and the Capital and Central New York regions. UnitedHealthcare's New York State government-sponsored health insurance programs were already available in New York City, on Long Island, and in Central New York. The Plan offers products for individuals and families who might qualify for Medicaid, Family Health Plus, Child Health Plus or New York Medicaid Advantage, or dual-eligible plans. These plans offer comprehensive health coverage that include hospitalization, prevention, primary care, prescriptions and other services, typically with little or no cost.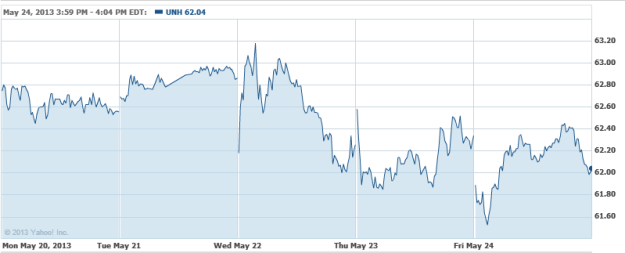 Don't Miss: Will Consumers Be Hurt By Obamacare?
Johnson & Johnson (NYSE:JNJ): Current price $86.69
The company recently won FDA approval for the expansion of Simponi's label, as the agency awarded Simponi approval for the treatment of adults suffering from moderately to severely active ulcerative colitis in case of corticosteroid dependence, or when the patients have not responded sufficiently to or are intolerant of oral aminosalicylates, oral corticosteroids, azathioprine, or 6-mercaptopurine. The label expansion makes Simponi the first and sole subcutaneously administered anti-tumor necrosis factor therapy to obtain approval for the induction and maintenance of clinical response and improvement of endoscopic appearance of the mucosa during induction.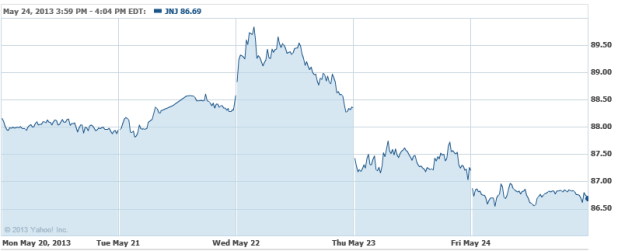 Don't Miss: Are These Companies Rigging Oil Prices?
Merck & Co. (NYSE:MRK): Current price $47.11
On Wednesday, Merck's experimental insomnia drug moved one step nearer FDA approval, after a panel of medical experts pronounced it effective and safe at lower doses. The advisory panel assisted the FDA in its decision whether or not to clear the drug, suvorexant, which would represent the first in a new class of sedatives that block chemicals in the brain called orexins that help keep persons awake. The drugs were created to help people fall asleep and stay asleep. On Monday, the FDA's internal reviewers released a report expressing some fears regarding suvorexant's potential to lead to next-day sleepiness and impaired driving, requesting the committee to consider whether patients should be started at a lower dose than that recommended by Merck.
Merck has ceased development of preladenant, which is an experimental drug for Parkinson's disease, after initial data from three late-stage trials was  disappointing. The company said that the decision to discontinue the studies was not based on any safety findings. Vice President, Clinical Research, Neuroscience and Ophthalmology at Merck Research Laboratories David Michelson said in a statement: "Parkinson's disease is very complex, making it difficult to treat patients and develop novel therapeutic approaches. We are committed to neuroscience research and will be conducting further analyses of the data to inform the scientific community's efforts in finding new approaches to treat this debilitating disease." Merck announced that results of the studies will be presented at an upcoming scientific meeting and also submitted for publication in a medical journal.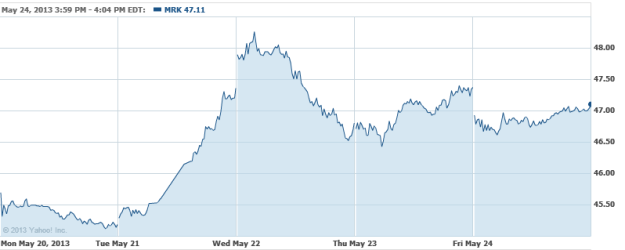 Pfizer (NYSE:PFE): Current price $29.03
Pfizer has recently suffered a pipeline setback with its discontinuing a late-stage evaluation being conducted with its oncology candidate, inotuzumab ozogamicin. The randomized, open-label, two-arm phase III study was being conducted in patients suffering with relapsed or refractory CD22+ aggressive non-Hodgkin lymphoma, who are ineligible for intensive high-dose chemotherapy. A once-monthly dose of inotuzumab plus Rituxan (rituximab) was studed for safety and efficacy compared to an active comparator arm (Treanda + Rituxan or Gemzar + Rituxan). Based on a scheduled interim analysis, an independent data monitoring committee reported that the inotuzumab arm was unlikely to attain the primary endpoint of overall survival. Pfizer said that no new safety problems were seen.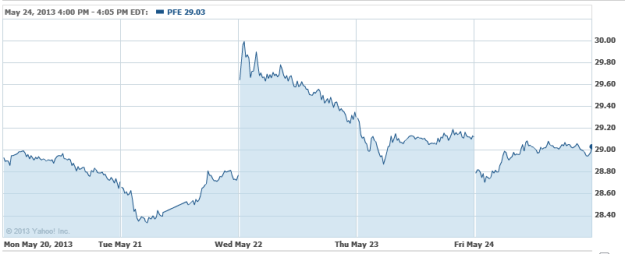 Don't Miss: Is the Next iPad Getting This New Audio Feature?