P&G Recalls Dry Pet Food on Salmonella Fears and 2 Other Dow Movers to Watch
Procter & Gamble Co. (NYSE:PG): Current price $80.58
Procter & Gamble is recalling some of its dry food for dogs and cats due to fears of possible salmonella contamination, although no illnesses have been reported thus far. The iconic consumer products manufacturer said that the recalled products include certain Eukanuba foods for both puppies and adult dogs, some Iams puppy and adult dog foods, and kitten and adult cat foods. The products were produced during a 10-day period at a sole manufacturing site.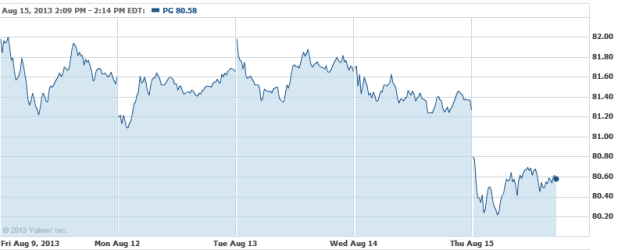 Alcoa Inc. (NYSE:AA): Current price $8.14
On Wednesday, Alcoa said that it is temporarily reducing output at its aluminum smelters in Brazil and will permanently close part of its operations in Massena, New York. The changes in production, which should be finished by the end of September, form part of a review reported in May during a challenging market period for aluminum. The company said it is temporarily ceasing production at smelters in Brazil that have yearly capacity of roughly 124,000 tons and will permanently shut a 40,000-ton potline at its Massena East plant that has a current capacity around 125,000 tons annually.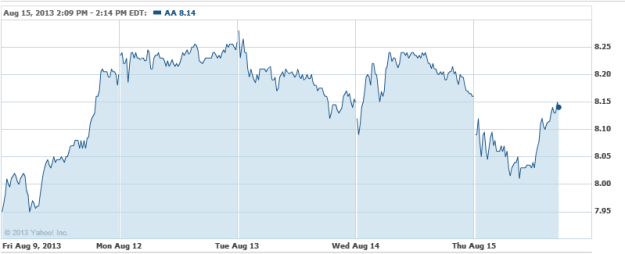 Wal-Mart Stores Inc. (NYSE:WMT): Current price $74.45
On Thursday, the economic bellwether Wal-Mart lowered its annual profit and revenue outlook as it expects what it considers a tough economy at home and overseas to continue to press its low-income shoppers through the rest of 2013. The giant retailer also posted second-quarter results that missed consensus. The spring and early summer indicated some improvement from the first quarter, but all told, the company experienced a tough first half of the year.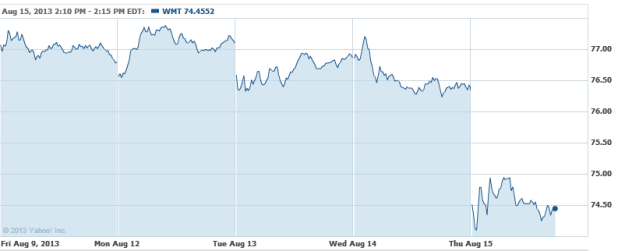 Don't Miss: Recovery Remains Fickle as Industrial Production Stalls.