Philip Morris International Earnings: Lighting Up the Income Statement
S&P 500 (NYSE:SPY) component Philip Morris International Inc. (NYSE:PM) reported higher profit for the first quarter as revenue showed growth. Philip Morris International, Inc. is the holding company whose subsidiaries and affiliates manufacture and sell cigarettes and other tobacco products in markets outside the U.S.
Don't Miss: Wall St. Cheat Sheet's newest Feature Trades of the Month!
Philip Morris International Earnings Cheat Sheet for the First Quarter
Results: Net income for the cigarette company rose to $1.92 billion ($1.06/share) vs. $1.7 billion (90 cents/share) YoY. A rise of 12.7% from the year earlier quarter.
Revenue: Rose more than twofold to $16.53 billion YoY.
Actual vs. Wall St. Expectations: PM beat the mean analyst estimate of $1.04/share. Estimates ranged from $1 per share to $1.09 per share.
Quoting Management: "We start the year on a strong footing, despite the tragic events in Japan and the upheavals in North Africa." said Louis C. Camilleri, Chairman and Chief Executive Officer. "Our organic volume performance was slightly higher than we had originally forecast given the anticipated weakness in Mexico, Japan, Spain, Ukraine and Pakistan. Our momentum is such that we are raising our EPS guidance for the year driven, in equal part, by a stronger organic earnings projection and favorable currency at prevailing rates. Our revised guidance anticipates higher spending in support of our brand portfolio and a more conservative pricing stance in response to competitive actions. We are pleased with our financial performance to date and look forward to another year of solid results."
Key Stats:
The company has now seen net income rise in three-straight quarters. In the fourth quarter of the last fiscal year, net income rose 15.1% and in the third quarter of the last fiscal year, the figure rose 1.3%.
Gross margins grew 19.5 percentage points to 86.1%. The growth seemed to be driven by increased revenue, as the figure rose more than twofold from the year earlier quarter while costs rose 5.8%.
Over the last five quarters, revenue has increased 38.2% on average year over year. The biggest increase came in the most recent quarter, when revenue rose more than twofold from the year earlier quarter.
Competitors to Watch: Lorillard, Inc. (NYSE:LO), Altria Group, Inc. (NYSE:MO), Reynolds American Inc. (NYSE:RAI), British American Tobacco (AMEX:BTI), and Vector Group Ltd. (NYSE:VGR).
Today's Performance: Shares of PM are trading at $67.21 as of April 21, 2011 at 9:35 AM ET, up 1.1% from the previous close.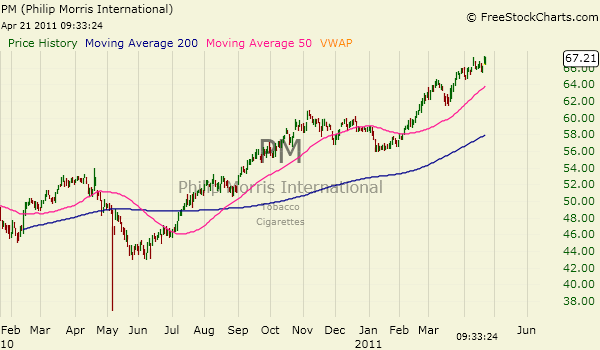 Don't Miss Wall St. Cheat Sheet's newest Feature Trades of the Month!