Pitney Bowes Earnings: Low Revenues Crushing the Stock
Falling revenue did not prevent S&P 500 (NYSE:SPY) component Pitney Bowes Inc. (NYSE:PBI) from reporting a profit boost in the first quarter. Pitney Bowes Inc. provides mail processing equipment and integrated mail solutions, including postage meters and office supplies.
Don't Miss: Wall St. Cheat Sheet's newest Feature Trades of the Month!
Pitney Bowes Earnings Cheat Sheet for the First Quarter
Results: Net income for the business equipment company rose to $86.3 million (42 cents/share) vs. $79 million (38 cents/share) in the same quarter a year earlier. A rise of 9.2% from the year earlier quarter.
Revenue: Fell 1.9% to $1.32 billion YoY.
Actual vs. Wall St. Expectations: PBI fell short of the mean analyst estimate of 53 cents/share. Estimates ranged from 51 cents per share to 55 cents per share.
Quoting Management: Chairman, President and CEO Murray D. Martin said, "We continue to gain momentum in our plan to drive long-term revenue and profitable growth across our business portfolio. We saw our third consecutive quarter of growth in equipment sales and software revenue. Equipment sales growth was led by increasing demand from high-volume mailers to update their hardware and software production platforms. Software revenue continued to benefit from global demand for data analytics and location intelligence solutions as well as a growing recurring revenue stream from multi-year licensing agreements."
Key Stats:
Last quarter's profit increase breaks a streak of four consecutive quarters of year-over-year profit drops. In fourth quarter of the last fiscal year, net income fell 36.1% from the year earlier while the figure fell 13.8% in the third quarter of the last fiscal year, 47.7% four quarters ago and 24.3% five quarters back.
Competitors to Watch: Ricoh Company Ltd. (OTC:RICOY), Xerox Corporation (NYSE:XRX), ACCO Brands Corporation (NYSE:ABD), Smith Corona Corporation (PINK:SITM), Innovative Impact Design, Inc. (PINK:IIDG), Gunther International Ltd. (PINK:SORT), and Oce N.V. (PINK:OCENY).
Today's Performance: Shares of PBI are trading at $24.87 as of April 29, 2011 at 11:18 AM ET, down 5% from the previous close.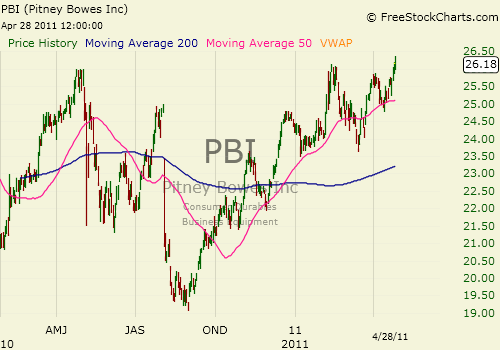 Don't Miss Wall St. Cheat Sheet's newest Feature Trades of the Month!