Platinum Prices Rebounded, Yet Losing Steam
Platinum for July delivery is down $11/lb to $1784/lb. The market remains at its 2010 peaks and slightly below its 2011 high. In the past 12 months, Platinum has been a big underperformer and its weak relative strength shows no sign of improving. Part of the reason is the advance in Oil prices past $100.
High oil (NYSE:USO) prices will reduce demand for new automobiles and that will impact Platinum. Platinum peaked in early 2008 when Oil was just below $100. Platinum could not reach a new high as Oil continued to soar. Platinum is essentially unchanged in the past 12 months as Oil is nearly 20% higher. If you exclude the boom and bust of Q2-Q3 2008 then Oil is essentially trading at an all time high. This is reason why Platinum has struggled and failed to reach a new high.
Also, we noted in our Copper commentary that the US Dollar is heavily oversold and at risk of a good bounce. That is negative for all Commodities. Tighter credit in China has is having an impact on automobile demand. Year over year growth in auto sales has decelerated from over 100% in 2010 to 2.6% in February of this year. The tighter policy is clearly impacting the financial economy but not yet the overall economy. Chinese GDP grew 9.7% last quarter.
Turning to the chart, we note that Platinum rebounded solidly but lost steam at $1,820. Resistance is now $1,800 to $1,820. The market failed at resistance and now looks likely to test important support at $1,720 to $1,740.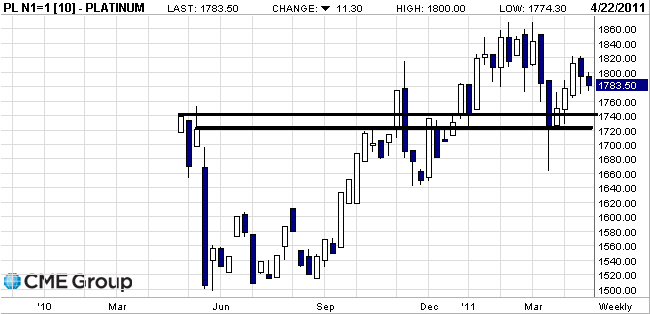 Jordan Roy-Byrne, CMT
Another great read: Gold & Silver Premium Vastly Outperforms with 86.5% Return in 2010>>