Play Smart, Not Hard: 8 Tips For a Low-Cost Party
Summer is the best time to throw a party. There are plenty of fun party-worthy holidays, such as Memorial Day, the Fourth of July, and Labor Day weekend, in addition to plenty of warm-weathered days that are perfect for get-togethers. When it's your turn to host a bash, you may feel pressure to go all out, splurging and indulging on anything and everything for your party. But it isn't necessary. You can throw a great bash without breaking the bank. Here are eight ways to host a summer party while sticking to a budget.
1. Set a budget.
This is key to following a budget. After all, you can't stick to one if it doesn't exist. Once you have a reasonable budget in mind, it forces you to plan accordingly, writes U.S. News & World Report. Rather than splurging on an expensive fruit tray, you may opt to buy the fruit and cut it yourself. Or, perhaps instead of buying the most expensive bottles of wine, you buy some budget-friendly beer and a bottle of hard liquor that can be used to make punch. Just make sure you have a number before you buy anything. Otherwise, you'll just keeping buying more party goods.
2. Opt for a potluck.
Mint suggests holding a potluck picnic or summer dinner party, since food is often the most expensive part of a party. A potluck meal means everyone brings something, which often works out really well. You'll end up with an assortment of delicious, savory dishes. Even if your friends aren't up-and-coming chefs, let them know that bringing a bag of chips, crackers, or even some buns would help out a lot.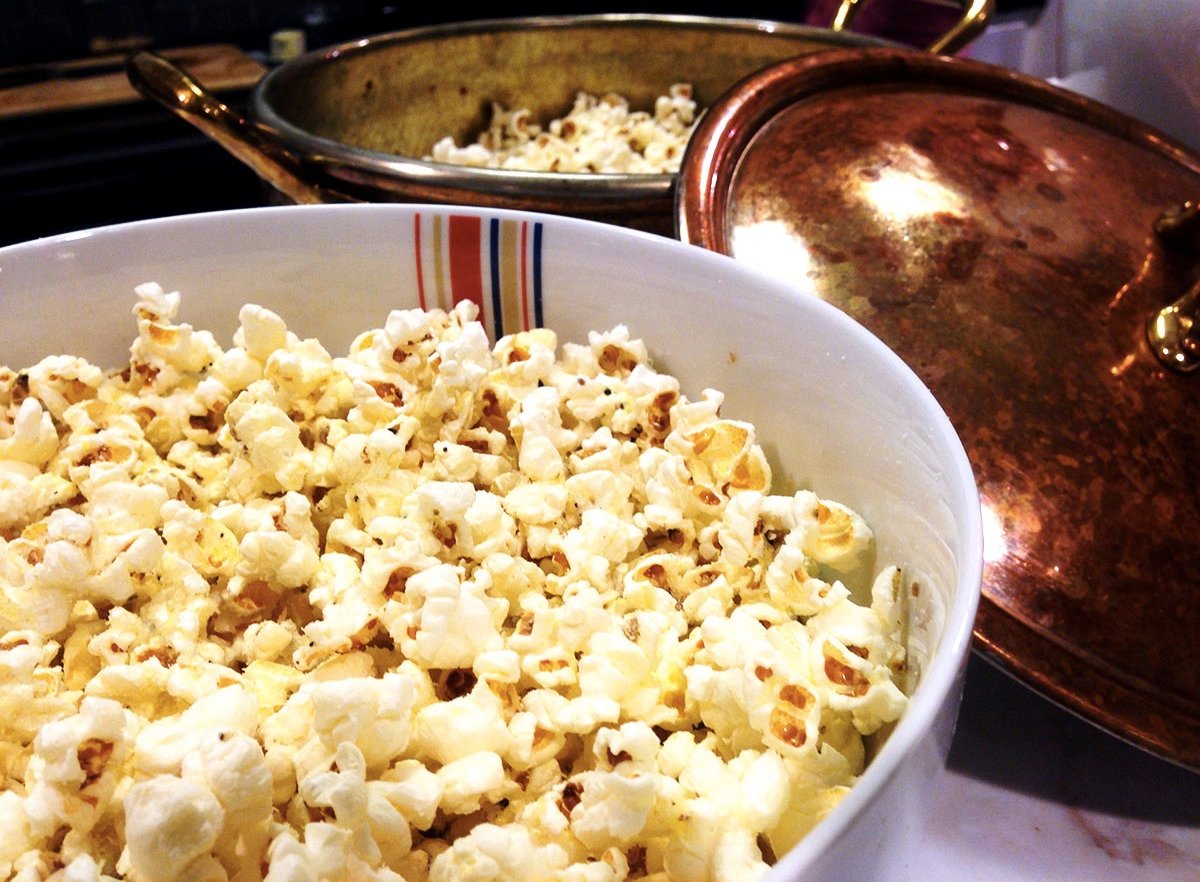 3. Host a popcorn party.
Everyone loves a party with a theme. Rather than offering an extensive menu, try throwing a popcorn party instead, writes LearnVest. You can set out different flavors of popcorn buffet style for your guests to enjoy. Anticipate spending about $10 per popcorn recipe. Looking for a few fun ideas? Here are a couple of different popcorn suggestions, per LearnVest.
Confetti: Drizzle popcorn with melted white chocolate CandiQuik, and sprinkle with Rainbow Nonpareils sprinkles.
Red Hot: On a baking sheet, drizzle melted white chocolate over popcorn. Then, sprinkle with Red Hots, Hot Tamales and red sprinkles.
Cheesy: Pour melted butter over the kernels. Then, mix together one-half cup of cheese powder and two teaspoons mustard powder and pour over the popcorn.
4. Serve a cocktail menu.
Alcohol expenses can add up pretty quickly. Rather than stocking up on wine, beer and an assortment of ingredients for mixed drinks, LearnVest recommends coming up with a drink menu that offers one or two signature beverages. When you invite friends over for the party, let them know what the signature drink will be and encourage guests to bring their own drinks if they don't like what you're offering.
5. Send invitations via email.
Speaking of inviting people, here's an easy way to utilize technology and save money. Forego the standard mail invitations, and instead design your own by using a word processor or a free online graphic editor, such as PicMonkey or Canva, per Living Well Spending Less. You can also use Evite for email invitations, or Paperless Post, Punchbowl, Celebrations and Green Envelope. It'll make your guest list easy to manage, and cut down on time and expenses.
6. Keep the food simple.
When you're planning your party, come up with dishes that don't require a lot of ingredients and prep time, suggests U.S. News & World Report. Fewer ingredients cuts down on time and expenses, which is key when you're planning a party.
Since meat is typically the most expensive food item at parties, only offer a few options, and provide plenty of side dishes that are easy to make, such as fruits and vegetables. You could even consider getting creative with it. Rather than grilling a lot of meat, throw some fruits and veggies on the grill. It's affordable, healthy, and tastes delicious.
If you aren't going to grill, U.S. News & World Report recommends making dishes with pasta, rice or potatoes — they're always fairly cheap and easy.
7. Shop the sales.
Mint writes that you should always give yourself plenty of time to plan a party, so you can shop for food when it's on sale. For example, if you're hosting this year's Labor Day bash, grocery stores will typically mark down picnic foods as it draws closer.
But even if your party doesn't land on a holiday, you can certainly still take advantage of sales. Plan ahead, and when you see something you need go on sale, pick it up (as long as it won't go bad). Meats can often be frozen for later, and dry goods will definitely last awhile.
8. Get crafty.
Pass on commercial decorations and make your own instead, according to Living Well Spending Less. There are plenty of great places to get ideas, including Pinterest, blogs, and magazines. Many break them down into a step-by-step process, so even a novice crafter will be able to successfully make a few decorations.
The same goes for food. Always cook your own food, rather than buy it pre-made. It's cheaper, and depending on how good of a cook you are, will most likely taste better too. Remember, your guests are coming to see you, so while it's nice to have decorations, you don't need to spend weeks working on them either.
More from Wall St. Cheat Sheet: