Plot Twist: McDonald's Isn't Ignoring Workers' Minimum Wage Pleas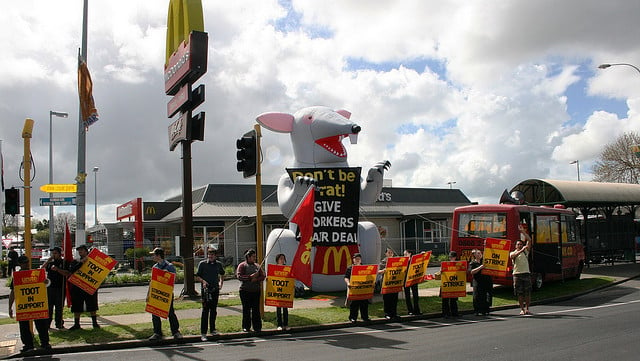 It's about time. McDonald's (NYSE:MCD) latest filing with the Securities and Exchange Commission evidenced Wednesday that the world's largest fast food company is finally considering raising its wages for its millions of workers who have been campaigning for a wage increase for many years now, but especially recently. According to Aljazeera America, McDonald's listed higher pay under the "risks to business" heading in its latest stock filing for 2013, and wrote that, "The impact of (wage) campaigns by labor organizations and activists, including through the use of social media and other communications and applications," could present a threat to the fast food brand if it doesn't raise wages.
Fast food workers and activists across the U.S. have recently boosted their campaign efforts for higher minimum wages, and McDonald's SEC filing illuminated that the company's executives are hearing its workers' pleas, regardless of whether or not it ever comes out and addresses them. Back in December, workers and advocates made headlines when they held strikes in 100 cities across the U.S., calling for a $15-per-hour minimum wage, but McDonald's appeared to ignore the protests, and only responded by updating its employee resource website to educate workers how to properly tip their au pairs or pool boys that holiday season.
But thankfully, it is now clear that McDonald's is not that obtuse, because its filing evidences the company's recognition that it might have to increase wages if it wants to maintain any hope of keeping its workers quiet in the future.  However, the problem for the Oak Brook, Illinois-based company that still remains is that if it raises its wages, it must also raise its prices if it doesn't want to suffer profit margin losses. That's alarming news to McDonald's customers, but also alarming to its executives, becuase even they realize that with the current financial situation of the struggling chain, they can't exactly afford to turn away any more customers.  McDonald's said in its filing, as highlighted by Aljazeera America, that it cannot "offset" increased labor costs "through price increases" to keep pace with the "long-term trend toward higher wages and social expenses in both mature and developing markets."
So now, if McDonald's decides to raise its wages in the future, the company will have to come to a decision as to how it will handle those increased labor costs — increase prices and risk a loss of consumers, or suffer disappointing profit margins. This could be good news or bad new for consumers, depending on what side of the McDonald's pick-up window they sit at, but it is at least comforting to the masses that the world's largest fast food chain is showing a recognition of its workers' needs and pleas.
Currently, McDonald's workers earn a salary that they believe makes it impossible to sustain themselves without requiring government assistance. Though the aforementioned employee resource site has been shut down, there was a point when it recommended that employees having trouble surviving on their paychecks apply for food stamps, and that suggestion alone enraged activists. Criticism of the fast food chain and its executives subsequently spread like wildfire, leading CEO Don Thompson to come out and say via a Bloomberg Television interview that consumers shouldn't critique McDonald's on minimum wage, but at least now, it is evident that Thompson is rethinking his strategy.
More From Wall St. Cheat Sheet: