Plum Creek Timber Earnings: Geographic Diversity was Key
S&P 500 (NYSE:SPY) component Plum Creek Timber Company, Inc. (NYSE:PCL) reported its results for the first quarter. Plum Creek Timber Co. Inc. is a real estate investment trust, which owns and manages timberlands and produces lumber products, plywood, medium density fiberboard and related by-products.
Don't Miss: Wall St. Cheat Sheet's newest Feature Trades of the Month!
Plum Creek Timber Company Earnings Cheat Sheet for the First Quarter
Results: Net income for the industrial reit fell to $38 million (23 cents/share) vs. $87 million (54 cents/share) a year earlier. A decline of 56.3% from the year earlier quarter.
Revenue: Fell 13.2% to $275 million YoY.
Actual vs. Wall St. Expectations: PCL fell short of the mean analyst estimate of 24 cents/share. Estimates ranged from 20 cents per share to 25 cents per share.
Quoting Management: "This quarter's performance highlights the importance of geographic diversity," said Rick Holley, president and chief executive officer. "Pacific Northwest log markets have improved significantly over the past twelve months on increased demand from both domestic and export customers. At the same time, Southern timber markets have declined from the price spikes of the first quarter of last year. With significant regional differences in market conditions, we are able to adjust our harvest plans to capture value in strong markets and protect value in weaker markets."
Key Stats:
Last quarter's profit decrease breaks a streak of three consecutive quarters of year-over-year profit increases. Net income rose more than twofold in the fourth quarter of the last fiscal year from the year earlier while the figure rose 68.4% in the third quarter of the last fiscal year and 9.4% four quarters ago.
Over the last five quarters, revenue has fallen an average of 5% year over year. The biggest drop came in the first quarter of the last fiscal year, when revenue fell 32.6% from the year earlier quarter.
Competitors to Watch: Potlatch Corporation (NYSE:PCH), Rayonier Inc. (NYSE:RYN), Weyerhaeuser Company (NYSE:WY), Deltic Timber Corporation (NYSE:DEL), Louisiana-Pacific Corp. (NYSE:LPX), Universal Forest Products, Inc. (NASDAQ:UFPI), Pittsburgh & West Virginia Railroad (AMEX:PW), West Fraser Timber Co. Ltd. (NYSE:WFT), and Masisa S.A. (ADR) (MYSZY).
Today's Performance: Shares of PCL are trading at $42.95 as of April 25, 2011 at 5:05 PM ET, up 1.3% from the previous closing price of $42.96.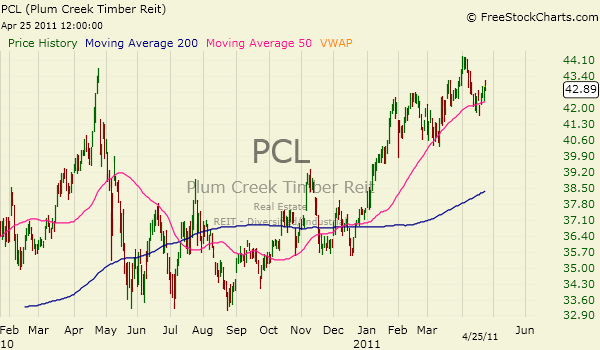 Don't Miss Wall St. Cheat Sheet's newest Feature Trades of the Month!