Political Brinkmanship and Obamacare Hinder Small Businesses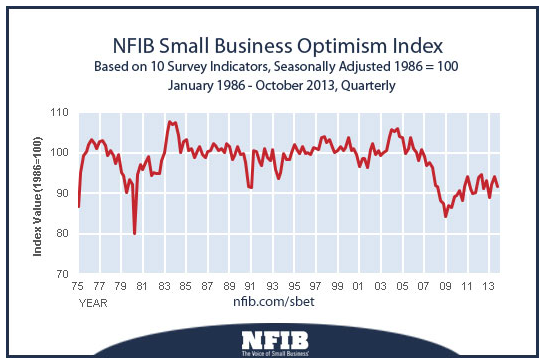 Against the backdrop of a sluggish economy and a government that can't seem to agree on anything without creating a scene, small business owners remain skeptical about the future.
The National Federation of Independent Business, the leading nonprofit small business association representing small and independent businesses, reported that its Small Business Optimism Index dropped to 91.6 in October from 93.9 in the previous month. Since the recession technically ended, the average value of the index is 91, which is eight points below the 35-year average. In December, the index sank to 88.0 — the second worst reading since March 2010.
"Washington paralysis is never good news for the economy, so it was no surprise that while politicians were arguing over whether or not the government should remain fully operational, small-business optimism measures deteriorated," said NFIB Chief Economist Bill Dunkelberg. "Small employers are not fooled by headlines announcing record high stock market indices; everyday they live the economic realities of overregulation, increased taxes, weak sales and a government without any direction or plan for the future."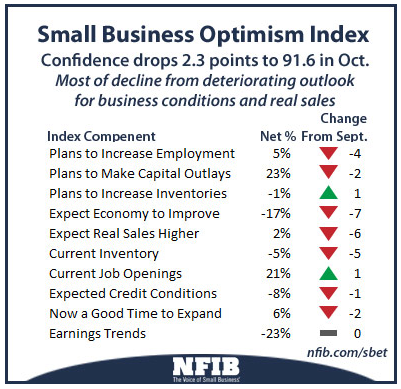 Of the 10 index components, seven turned negative and fell a total of 27 percentage points. Small businesses expecting the economy to improve plunged 7 points, while plans to increase employment declined 5 points. Only two components managed to climb higher last month, plans to increase inventories and current job openings. Meanwhile, earnings trends were flat.
"The new budget deadline of January 15, 2014 is approaching quickly and Congress continues to wrangle over the disastrous healthcare law and little else. We shouldn't expect skies to turn blue anytime soon," explains Dunkelberg.
He also adds that, "The most critical issues for small business owners are rising health insurance costs, uncertainty about the economy and about economic policy, energy costs, the cost of regulation and red tape and a multitude of issues with the tax code. None of these issues has improved and the prospects are not bright."
Sales remained in negative territory for small businesses. The net percent of all owners reporting higher nominal sales over the past three months declined 2 points to reach a negative 8 percent. In fact, 17 percent of small employers cite weak sales as their top business problem. Taxes and government red tape were the top two problems at 20 percent and 21 percent, respectively.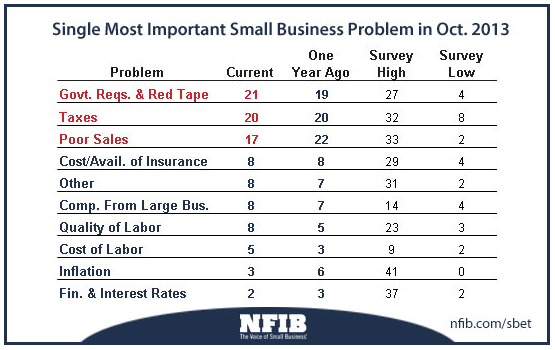 Dunkelberg notes that, "The healthcare law is revealing itself to be everything opponents feared. But what else could be expected when a few hundred people (in one party) decide to restructure 15 percent of the economy. Nobody read the bill, nobody understood the whole thing, the big picture. Now, as it dissembles, a panicked Administration is throwing even more tax dollars at the project in an effort to stem the hemorrhaging."
Don't Miss: Are Government Woes Sinking Consumer Sentiment?
Follow Eric on Twitter @Mr_Eric_WSCS