Polo Ralph Lauren Corp. Earnings: Margins Suffer as Costs Rise, Profit Falls
S&P 500 (NYSE:SPY) component Polo Ralph Lauren Corporation (NYSE:RL) reported its results for the fourth quarter. Polo Ralph Lauren Corp. designs and sells premium lifestyle products, including apparel, accessories, fragrances and home furnishings.
Don't Miss: Wall St. Cheat Sheet's newest Feature Trades of the Month!
Polo Ralph Lauren Earnings Cheat Sheet for the Fourth Quarter
Results: Net income for Polo Ralph Lauren Corporation fell to $73.2 million (74 cents/share) vs. $114.1 million ($1.13/share) a year earlier. A decline of 35.8% from the year earlier quarter.
Revenue: Rose 6.7% to $1.43 billion YoY.
Actual vs. Wall St. Expectations: RL fell short of the mean analyst estimate of 79 cents/share. Estimates ranged from 43 cents per share to $1.11 per share. It beat the average revenue estimate of $1.39 billion.
Quoting Management: "We reported record sales and earnings in Fiscal 2011 while strengthening our foundation for powerful long-term growth," said Ralph Lauren, Chairman and Chief Executive Officer. "During the year, we opened important flagship stores in some of the world's premier cities. These stores showcase our luxury lifestyle sensibility and reinforce the clarity and consistency of our brand expression to the most discerning customers. We also completed the last stage of acquiring our Asian operations, and we are redefining how our brand is presented in this important region of the world. Assuming more direct control of our operations around the world and extending our brands into exciting new merchandise categories has enabled us to generate strong, consistent returns for our shareholders. As we look to the future, the scope of our opportunities across products, channels and geographies is incredibly invigorating," Mr. Lauren added.
Key Stats:
Last quarter's profit decrease breaks a streak of four consecutive quarters of year-over-year profit increases. In the third quarter, net income rose 51.6% from the year earlier while the figure increased 15.6% in second quarter, 57.3% four quarters ago and more than twofold five quarters earlier.
Gross margin shrunk 2.3 percentage points to 56.8%. The contraction appeared to be driven by rising costs as the figure rose 12.6% from the year earlier quarter while revenue rose 6.7%.
Revenue has risen the past four quarters. Revenue increased 24.4% to $1.55 billion in third quarter. The figure rose 11.5% in second quarter from the year earlier and climbed 12.7% in first quarter from the year-ago quarter.
The company fell short of forecasts after beating estimates in the previous two quarters. In third quarter, it topped the mark by 43 cents, and in second quarter, it was ahead by 40 cents.
Competitors to Watch: Liz Claiborne, Inc. (NYSE:LIZ), The Warnaco Group, Inc. (NYSE:WRC), Maidenform Brands, Inc. (NYSE:MFB), Jones Apparel Group, Inc. (NYSE:JNY), Nordstrom (NYSE:JWN), Guess?, Inc. (NYSE:GES), Coach, Inc. (NYSE:COH),  Phillips-Van Heusen Corp. (NYSE:PVH), V.F. Corporation (NYSE:VFC). Frederick's of Hollywood Group Inc. (AMEX:FOH), Vera Bradley, Inc. (NASDAQ:VRA), Tiffany & Co. (NYSE:TIF), Fossil, Inc. (NASDAQ:FOSL), Piquadro S.p.A. (NYSE:PQ), Wet Seal (NASDAQ:WTSLA), Abercrombie & Fitch (NYSE:ANF), Gap (NYSE:GPS), Express (NYSE:EXPR), Urban Outfitters (NASDAQ:URBN) and Limited Brands (NYSE:LTD)
Stock Performance: Shares of RL are down over 12% this morning from the previous close of $129.39.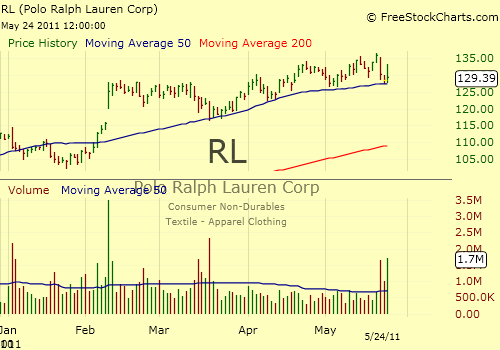 Don't Miss Wall St. Cheat Sheet's newest Feature Trades of the Month!
(Sources: YahooFinance, Xignite Financials)