Polypore International Earnings: Five Quarters of Double-Digit Revenue Growth
Polypore International, Inc. (PPO) reported net income above Wall Street's expectations for the most recent quarter. Polypore International Inc. is a global technology filtration company which develops, manufactures and markets specialized microporous membranes used in separation and filtration processes.
Don't Miss: Wall St. Cheat Sheet's newest Feature Trades of the Month!
Polypore International Earnings Cheat Sheet for the First Quarter
Results: Net income for Polypore International, Inc. rose to $25.7 million (55 cents/share) vs. $17.5 million (38 cents/share) in the same quarter a year earlier. A rise of 46.5% from the year earlier quarter.
Revenue: Rose 27.8% to $185.7 million YoY.
Actual vs. Wall St. Expectations: PPO beat the mean analyst estimate of 40 cents/share. Estimates ranged from 36 cents per share to 43 cents per share.
Quoting Management: Robert B. Toth, President and Chief Executive Officer, said: "Our strong performance continued in the first quarter. Demand trends remain very positive and we are keenly focused on optimizing performance while ensuring the timely startup of our investments that will bring additional capacity online in the back half of 2011 and into 2012."
Key Stats:
The company has enjoyed double-digit year-over-year revenue growth for the past five quarters. Over that span, the company has averaged growth of 22%, with the biggest boost coming in the first quarter of the last fiscal year when revenue rose 33.4% from the year earlier quarter.
Gross margins grew 2.7 percentage points to 42.8%. The growth seemed to be driven by increased revenue, as the figure rose 27.8% from the year earlier quarter while costs rose 22.1%.
Competitors to Watch: Altair Nanotechnologies, Inc. (NASDAQ:ALTI), Nanophase Tech. Corp. (NASDAQ:NANX), Celanese Corporation (NYSE:CE), W.R. Grace & Co. (NYSE:GRA), Media Sciences Intl. (MSII), Innospec Inc. (NASDAQ:IOSP), IKONICS Corporation (NASDAQ:IKNX), OM Group, Inc. (NYSE:OMG), Calgon Carbon Corporation (NYSE:CCC), Ferro Corporation (NYSE:FOE).
Stock Performance: Shares of PPO are trading up 11.4%.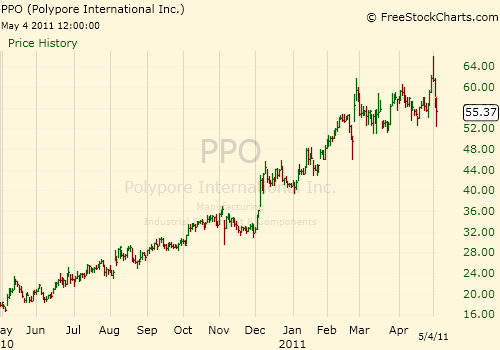 Don't Miss Wall St. Cheat Sheet's newest Feature Trades of the Month!