The Poorest Politicians in the United States Are …
When you think of politicians, you probably don't think of them as poor. After all, many prominent members of the Trump administration are quite rich. Even when you don't factor in Donald Trump and his high-level White House staff, there are several legislators worth millions and more.
Not all politicians get into the game in order to make money, and not all politicians have billions in the bank like our president. These 15 are the poorest politicians in the United States.
15. Chris Stewart
A very unpopular person among his constituents, Rep. Chris Stewart also claims to be one of the poorest members of Congress. He self-reports $270,000 in assets (all in the form of investments) and claims $760,000 in debt to his name, according to a 2015 report from the website Roll Call.
Next: A California representative is in the red.
14. Duncan Hunter
A former business analyst and real estate developer who succeeded his father as a Republican congressman, Rep. Duncan Hunter probably isn't really this poor. He's probably just playing it close to the vest. The Republican claims to have significant mortgage debt and no assets, so officially (in the eyes of his fellow legislators) he is more than broke.
Next: Another representative in the poor house
13. Eliot L. Engel
Members of Congress are paid $174,000 per year, plus benefits. Rep. Eliot Engel, a Democrat, has served since 2009. So how could he possibly be so poor? Blame it on how members of Congress report their assets. Senators and representatives don't have to disclose how much their real estate holdings are worth, and many don't. But they must count their mortgages as debt. Some poor members of Congress have troubled financial histories, but some choose not to report all their assets, which is probably the case with Engel.
Next: Freshman congresswoman already in the hole
12. Norma J. Torres
A former 911 operator, this Democrat is in her first term. As the Los Angeles Times reports, she counts a residence in Pomona, California (east of Los Angeles), a pension, and two modest retirement accounts as assets. At the same time, she lists mortgage loans as significant debts. She's probably not going to sign up for welfare anytime soon, but the fact remains she is considered one of the poorest members of Congress.
Next: A shady congressman lands on the list.
11. Gregory W. Meeks
If you believe Rep. Gregory Meeks is one the most hard-up members of Congress, well, you might be right and you might be wrong. It seems the Democrat has a history of shady dealings since joining Congress in 1998. The website Roll Call shows he claims no assets at all and only has debts on his ledger. Given Meeks' history, that's probably not the absolute truth, but on paper he is in the hole $570,000 and one of the poorest legislators in the country.
Next: A poor senator, at least on paper
10. Debbie Stabenow
First as a representative and now as a senator, Debbie Stabenow has been a legislator since 1997. Despite years of service at the federal level, the Democrat claims to be in the poor house. Again, chalk it up to the way members of Congress report their wealth. They aren't forced to disclose the value of their homes (unless they make money from them), but the full value of the mortgages they took to pay for those homes counts as debt. That's likely the case with Stabenow, who might face off against Kid Rock in the 2018 election.
Next: A massive mortgage put this congresswoman on the list.
9. Mimi Walters
Another Californian making this list, Rep. Mimi Walters was once an investment executive. So how did she end up on this list? It's probably because of her past making money as an investor. As the Los Angeles Times reports, she has a home mortgage worth at least $1 million plus another loan for $100,000. Yet she reports a little less than $500,000 in assets. Do the math, and Walters is about $620,000 in the red.
Next: A line of credit and real estate impact this person's worth.
8. Tim Scott
The website Roll Call shows Sen. Tim Scott lost a significant amount of assets while his debt is shrinking only modestly, which is why he is $710,000 in the hole and one of the poorest legislators in the land. His total debt load, while significant, is in the form of multiple mortgages, while the Republican senator claims to have a few sizable assets. In real-world terms, Scott is probably fine. In Congressional wealth reporting terms, he has not a dime to his name.
Next: This senator self-reports as poor.
7. Martin Heinrich
Sen. Martin Heinrich has a degree in mechanical engineering. The median pay for mechanical engineers is more than $84,000 per year, according to the Bureau of Labor Statistics. The Democratic senator's lack of wealth comes down to the way legislators disclose their finances. He claims a rental property as an asset, according to the website Roll Call, while he also claims to have mortgage debts of $850,000. It's likely this former representative has more wealth than he's acknowledging, but the official story is he's more than $700,000 in debt.
Next: Old business debt puts this politician on the list.
6. Emanuel Cleaver II
Rep. Emanuel Cleaver settled a dispute with Bank of America over a failed car wash he once owned, which left him owing $1.2 million. Compared to the modest growth of his assets, it means he is more than $800,000 in the red when it comes to his official congressional balance sheet.
Next: The following congresswoman is getting close to even.
5. Debbie Wasserman Schultz
The website Roll Call, which keeps track of the finances of members of Congress, says Debbie Wasserman Schultz is more than $900,000 in the hole. The website also says that's not close to being true. The peculiarities of the ways members of Congress list debt and assets make Wasserman Schultz look poor, but the Democrat can afford mortgages on two homes and has some other assets to her name, so she is only poor in the Congressional sense.
Next: Limited known assets put this politician in the poor house.
4. Lynn Westmoreland
Like some of the others we've encountered so far, former Rep. Lynn Westmoreland lists several mortgages as debt, but he doesn't disclose any properties — or much of anything else — as assets. That makes the Republican look poor, even though he owns more than one property and obviously passed the credit checks to obtain mortgages on those properties.
Next: Two mortgages and still poor? Yes, according to our next politician.
3. Mike Quigley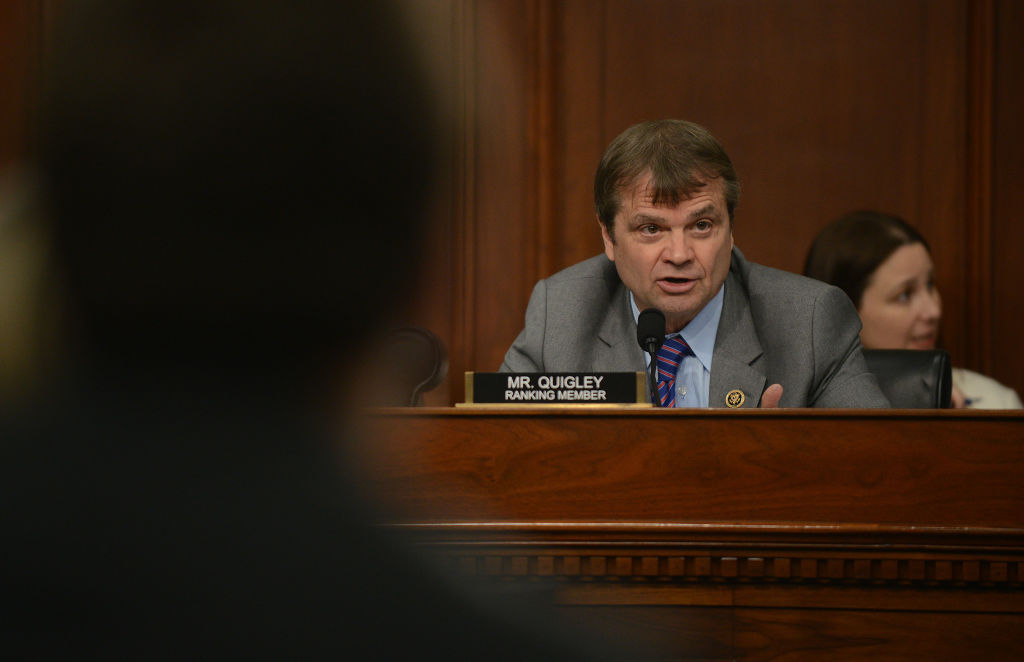 Like Westmoreland, Rep. Mike Quigley claims to have millions of dollars of debts and very little in the way of real assets. With two mortgages to his name, it's unlikely the Democrat is actually poor but merely representing as poor when it comes to disclosing his finances. Or maybe he spent his time and money coming up with this piece of legislation that takes a jab at Trump.
Next: Old legal issues still haunt this congressman.
2. Alcee L. Hastings
Rep. Alcee Hastings was once a federal judge. We say once because he racked up a ton of legal fees fighting his impeachment from that position in the 1980s. Now a Democratic congressman, Hastings claims to be in the poor house with $0 in assets and millions in debt. That doesn't take into account the money he's earned as a representative since 1993 or the sizable salary he has paid his girlfriend for years.
Next: Let's meet the poorest politician in the land.
1. David Valadao
This Republican will likely be considered the poorest legislator in the United States as long as he is in office. Rep. David Valadao actually has at least $1 million in assets from the dairy farm he co-owns, but he also has significant debt in the form of loans and credit he needs to keep the farm running. He takes some ribbing from his fellow congressmen about his "poorest" status, but at least he has a sense of humor about it.
Read more: The 8 Crazy Ways North Korea Makes Money Despite Sanctions
Check out The Cheat Sheet on Facebook!