Popular Earnings: A Return to Operational Profitability
Popular, Inc. (NASDAQ:BPOP) reported its results for the first quarter. Popular, Inc. is a publicly owned bank holding company, which offers retail and commercial banking services through its main banking subsidiary, Banco Popular de Puerto Rico.
Don't Miss: Wall St. Cheat Sheet's newest Feature Trades of the Month!
Popular Earnings Cheat Sheet for the First Quarter
Results: Swung to a profit of $10.1 million (one cent/diluted share) in the quarter. The Popular, Inc. had a net loss of $85.1 million or a loss 13 cents per share in the year earlier quarter.
Revenue: Net interest income was $343.6 million.
Actual vs. Wall Street Expectations: Estimates ranged from a loss of 2 cents per share to 2 cents per share.
Quoting Management: Mr. Richard L. Carrión, Chairman of the Board and Chief Executive Officer, stated, "While the results for the quarter were impacted by a number of significant items, they clearly reflect a return to operational profitability. One quarter does not make a trend and we are very conscious of the fragility of the economic recovery. Nevertheless, these results, together with generally encouraging economic and credit metrics, make us feel optimistic."
Competitors to Watch: Doral Financial Corp. (NYSE:DRL), Oriental Financial Group Inc. (NYSE:OFG), First BanCorp. (NYSE:FBP), Eurobancshares Inc. (EUBK), R&G Financial Corporation (RGFCQ), W Holding Company, Inc. (WHI), Bank of America Corp. (NYSE:BAC), SunTrust Banks, Inc. (NYSE:STI), Wells Fargo & Company (NYSE:WFC), and Mitsubishi UFJ Financial Group Inc (NYSE:MTU).
Today's Performance: Shares of BPOP are up over 3.4%.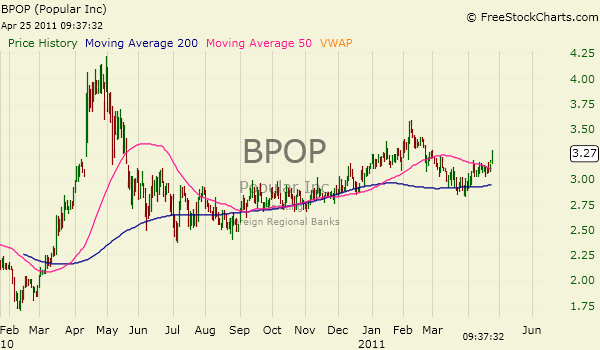 Don't Miss Wall St. Cheat Sheet's newest Feature Trades of the Month!