Positive Trial Data Sends Galena Biopharma Shares Higher
Over the past few years, biotechnology stocks have participated in a massive rally. Investors have been jumping at the chance to risk a little capital for the chance to strike a big return. One stock that has seen substantial gains yet remains fairly undiscovered is Galena Biopharma (NASDAQ:GALE).  After announcing positive trial data earlier this week, Galena Biopharma has seen its share price soar.
Share Price Soars
One of the best performing biotechnology stocks over the past couple of years has been Galena Biopharma. Over the past 2 years, the share price is up more than 400 percent.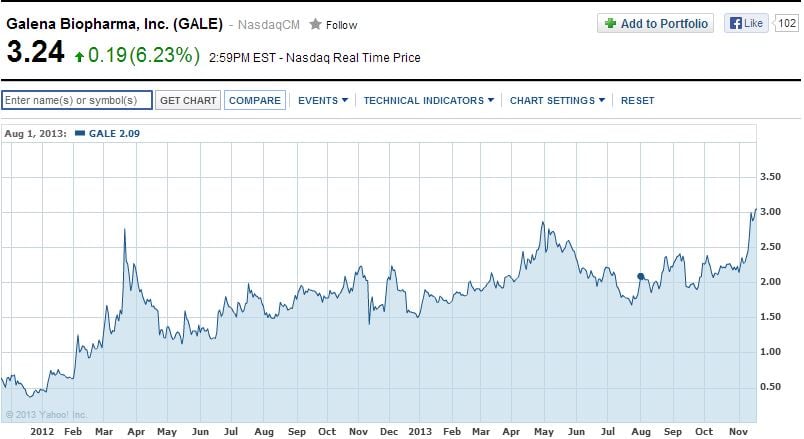 Even more relevant for shareholders is the recent move since the announcement of the Phase 1 success regarding the Folate Binding Protein.  Since that announcement, shares in Galena have soared by more than 30 percent.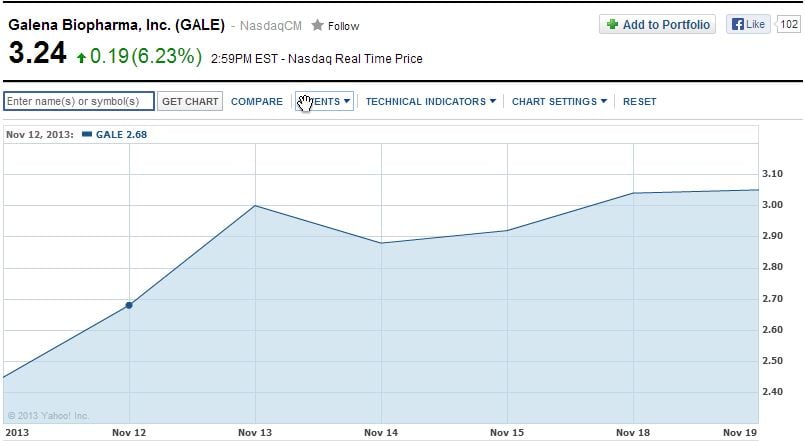 Now that Galena shares are trading at a fresh 52-week high, investors are undoubtedly excited about the bright future that Galena has.
Positive Trial Data
On Monday, November 11, Galena Biopharma announced the initial results from the highly anticipated Folate-Binding Protein (NYSE:FBP) -39 Phase I trial.  FBP is a folate receptor, peptide-based cancer immunotherapy.  It is given to HLA A2 positive patients in combination with granulocyte macrophage-colony stimulating factor. Galena Biopharma's goal is to prevent endometrial and ovarian cancer recurrences in patients who are disease-free after completing the standard therapy.
FBP is over-expressed in more than 90 percent of ovarian and endometrial cancers. It is also highly expressed in breast, lung, colorectal, and renal cell carcinomas. Since FBP has very limited tissue distribution and expression in non-malignant tissue, it represents a promising immunotherapy target. This promise was demonstrated with the initial results of the trial. The main purpose of the Phase 1 trial was to determine the optimal dose along with any safety issues. A secondary goal was to look for efficacy. After careful determination, the optimal dose was discovered to be 500 mcg peptide combined with 250 mcg GM-CSF. At this dose, the patients tolerated the treatment very well without suffering any major reactions.
Of additional importance was the six month follow-up. Galena Biopharma discovered that there were only 2 recurrences (13.3 percent) in the vaccine group compared to 4 recurrences (25 percent) in the control group. Mark J. Ahn, President and CEO of Galena Biopharma, announced plans to proceed with a Phase 2 trial that is expected to start by the end of the year.  The start date announcement along with additional patient enrollment information could serve to further boost the share price.
Financials
In addition to looking at the recent trial data, investors should look at a company's financials, especially when it comes to small-cap biotechnology stocks. One of the most important line items to look for is the available cash and cash equivalents. This will tell investors how much longer the company has before it needs to raise additional funds.
Galena Biopharma announced its third-quarter results on November 6  The company ended the quarter with approximately $55.8 million in cash, cash equivalents, marketable securities, and net accounts receivable. This balance includes the $32.6 million that the company raised in a September offering. The company has a current monthly burn rate of approximately $2 million, so the current available cash should be enough to fund the company through at least the end of 2015. However, it is likely to be even longer than that given the recent spike in Galena's revenues.
For the third-quarter, Galena generated approximately $1.2 million in net revenue. This is due to the recent launch of Abstral and is one reason why investors are expecting big things in the near future.
Official Abstral Launch
On October 3, Galena Biopharma launched Abstral in the U.S. Abstral is used to treat breakthrough cancer pain in opioid tolerant patients. Currently, it is the only FDA approved fentanyl sublingual tablet used to treat breakthrough cancer pain.
Abstral is expected to generate substantial revenue for Galena in the coming years. This launch is likely one of the reasons why the shares have done so well of late. Investors are likely realizing the potential that Abstral has. Decision Resources recently conducted a market analysis on the cancer pain drug market. The firm expects that the annual market sales will total $3.7 billion by 2018.
If Galena can successfully capture even just a small percentage of that revenue, the share price should be significantly higher than where it is currently.
Additional Catalysts
As with all small-cap biotechnology stocks, investors are likely curious as to when the next catalysts will occur. Luckily for Galena investors, there are a number of upcoming catalysts that could send the shares soaring.
Phase 2a Trial Start Date for Folate Binding Protein: Late 2013
Annual Report in early 2014, which will provide the first full quarter revenue for Abstral: March 2014
NeuVax Phase 3 Enrollment Completion Announcement and Interim Results on 70 Events: Early to Mid-2014
Additional Partnerships: Galena already stuck a deal with Teva Pharmaceuticals (NYSE:TEVA) to help commercialize NeuVax in Israel.  It is possible that the company may be seeking additional partners to help commercialize the product in other areas of the world, including the U.S. Any announcement of this type would likely send the shares soaring as it would mean that the company would need to spend significantly less money both commercializing and marketing the product.
Risks for Investors
Although Galena appears poised for significant growth over the next couple of years, investors need to be aware of the risks facing the company.  Although minimal, the company will likely need to raise more money in the future. In the financial section, I already discussed that the company had enough cash on hand to fund the company through at least the end of 2015.
However, it is possible that costs could come in higher than expected over the next couple of years, which could mean a sooner than expected secondary. Any type of announcement like this would likely cause the share price to drop (at least temporarily). Conversely, it is equally if not more likely that Abstral sales will be able to help fund the company going forward, which would minimize the company's need to raise additional funds.
A second risk deals with trial failure. If the Phase 3 for NeuVax or the Phase 2a for the Folate Binding Protein don't produce the expected results, investors are likely to sell their holdings.  This would likely result in a large capital loss for investors.  That being said, Galena has a significant list of catalysts that will occur over the next 12-18 months.  Even if one trial fails, the company is building a diversified business that should be able to sustain one setback.
Conclusion
Despite the risks that Galena faces, the potential for multi-bagger returns is a very real possibility.  Given the huge unmet need in the indications that Galena is attempting to treat, any success is likely to cause a significant spike in the company's valuation. Investors wondering about timing need look no further than the list of catalysts discussed in this article to know that the time is now. This week of trading has already shown how quick the share price can take off.
Matt Levy is a research analyst with Onyx Research Associates based out of Charlotte, North Carolina. Matt spends most of his time researching micro-cap and small-cap equities that are severely undervalued by the market. After a careful look at both fundamentals and industrial changes, Matt is able to uncover promising investment opportunities.
Don't Miss: 7 Eye-Popping Stats on the Costs of Raising a Baby.