Possible ExxonMobil Fine By DOT and 3 Dow Movers To Follow
Microsoft Corporation (NASDAQ:MSFT): Current price $28.16
Notebook brand suppliers might be cautious about revealing their new products' industrial designs due to fears that Microsoft could use their designs to benefit Surface products, says DigiTimes. Sources from the upstream supply chain say that the brand vendors no longer trust Microsoft and also its strategy of pushing Surface tablets.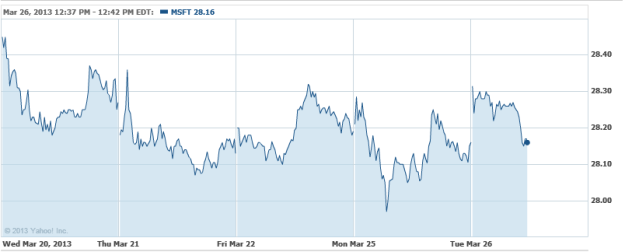 Pfizer (NYSE:PFE): Current price $28.51
More than one Supreme Court justice appeared to be skeptical concerning the practice of brand name pharmaceutical firms paying generic companies to keep their less expensive drugs off the market for a longer time, according to The New York Times, which also said that some of the justices seemed to be interested in issuing a narrow ruling that would not form a precedent.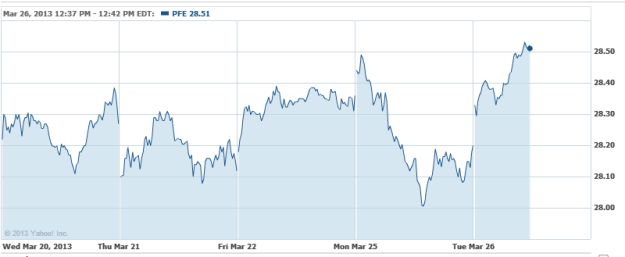 Verizon Communications (NYSE:VZ): Current price $49.47
BGR reports that Google's (NASDAQ:GOOG) LTE version of the Chromebook Pixel will ship to customers by April 8. Also, The touch-enabled computer will cost $1,449 and will be compatible with Verizon's high-speed network.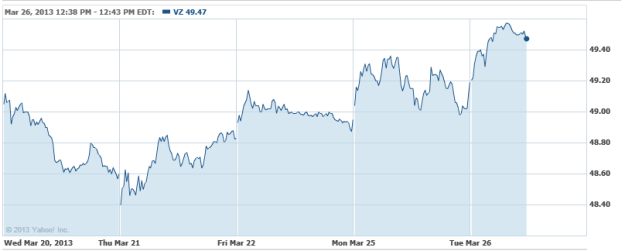 Exxon Mobil Corporation (NYSE:XOM): Current price $89.98
The United States Department of Transportation has proposed a $1.7 million penalty against Exxon Mobil for its failing to address known flooding risks on one of its pipelines that broke in 2011, according to The Wall Street Journal. The ruptured pipeline allowed 1,500 barrels of crude to spill into Yellowstone River in Montana.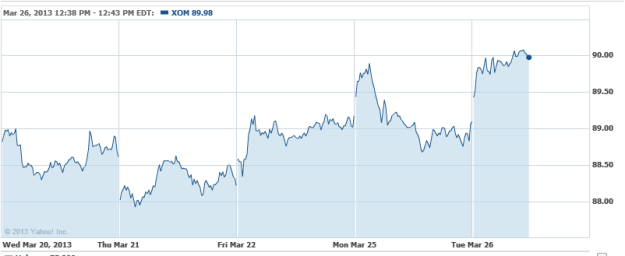 Don't Miss: Ford Says Sorry for This Thoughtless Ad.