Preheat the Ovens: Starbucks's La Boulange Bakery Is Coming to LA
Starbucks (NASDAQ:SBUX) is getting ready to preheat its ovens in Los Angeles. Fierce Retail reported Thursday that the world's largest coffee chain is planning on opening its first full-service La Boulange bakery in Southern California, after only previously operating it in San Francisco. Starbucks has twenty-two La Boulange locations in San Francisco, but has been slow about expanding its operations elsewhere. That is until now, at least. Company executives have yet to make any formal announcements about a new LA location, but both Reuters and Fierce Retail have reported on the La Boulange expansion after onlookers noted that Starbucks has filed business permits for the La Boulange locations, and has also been advertising for job openings.
As highlighted by Fierce Retail, Starbucks purchased La Boulange Bakery in 2012 for $100 million and has since been selling La Boulange pastries and other food in about 3,500 Starbucks outlets in the United States. However, that doesn't mean all Starbucks customers are happy about the new pastries. After growing to love the chain's iconic oversized muffins, loaf cakes, and breads, many consumers have started complaining about the size and price of the La Boulange baked goods, complaining that they are too small and overpriced. Responding to those complaints, Starbucks brought back some old favorites this winter, but it's still up in the air as to how well LA customers will welcome the new La Boulange bakeries, especially since there is no dearth of specialty baked goods in the region.
But Starbucks will still bring its La Boulange bakery to LA sooner rather than later, and the expansion reflects the Seattle-based company's desire to flex its muscles outside of the coffee sphere. Starbucks has secured many new food and drink partnerships this year that have made it a competitor in the grocery, tea, and food industries, and its link to La Boulange is just one more way it can further its monopoly over the coffee drink and food fields.
Starbucks also released its fiscal second quarter earnings after the bell Thursday and impressed investors as it posted a strong quarterly profit and a global same-store sales gain of 6 percent. Starbucks reported a second quarter revenue of $3.9 billion, up 9 percent from the same period last year, and a figure that was on target with analysts' expectations. In addition, the Seattle-based company posted a net earning of $427 million and earnings per share of 56 cents, also in line with expectations from Wall Street. Shares of Starbucks rose 2 percent to around $72.42 in after-hours trading, and were up 0.58 percent, sitting at $71.50 as of 9:45 a.m. Friday.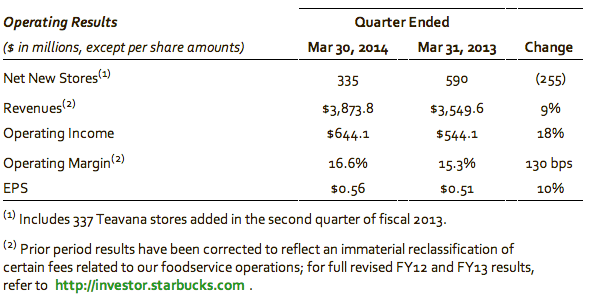 Starbucks has a number of competitors on its hands, but one of its main rivals is Dunkin' Brands's (NASDAQ:DNKN) Dunkin' Donuts, and that coffee and donut chain also released its latest earnings Thursday. Dunkin Donuts didn't fare as well as Starbucks did in the most recent quarter, and it attributed its disappointing sales to frigid winter weather, while Starbucks made no such complaints. The only time the weather came up for Starbucks was when it was addressed in the post-earnings conference call, and it was then that the company's executives explained that Starbucks had to close its stores more during the quarter than ever before on account of the weather.
In a statement following Starbucks's earnings release, CFO Scott Maw maintained, "Starbucks strong second quarter performance demonstrates the success of our ongoing efforts to drive industry-leading growth. While global comparable store sales growth of 6 percent was impressive, and squarely in line with our targets, even more significant is the fact that we delivered strong, and balanced, revenue and profit growth across all of our reportable segments. The strong momentum we have created in the first half of the year, combined with our robust pipeline of innovation, give us confidence in our ability to meet our fiscal 2014 growth targets."
More From Wall St. Cheat Sheet: