President to Texas: Give Obamacare a Chance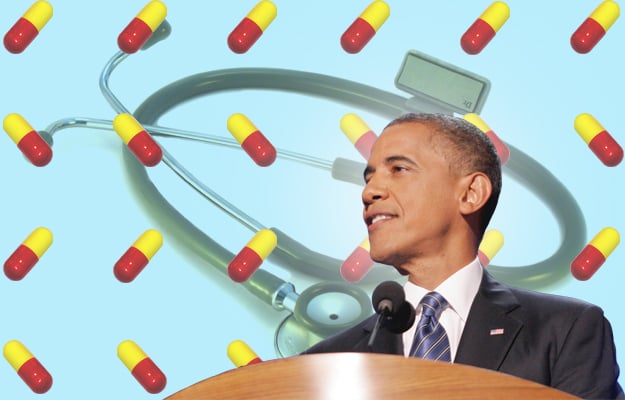 Texas is, unsurprisingly, one of the most anti-Obamacare states in the U.S. — as a result, President Barack Obama stopped by for a talk. According to the New York Times, the largely Republican state is refusing to participate in the Affordable Care Act. With approximately 2.5 million residents of Texas sans health insurance, the president will be "calling on folks in Texas to join conservative governors in other states like Ohio and in Michigan, in Arizona, to put politics aside and not deny people health care out of ideology or politics" — according to David M. Simas, adviser to the White House.
Texas's Governor, Rick Perry, who is considering running for president in the next election, is highly opposed to the new law — something that he's likely aware conservatives will remember fondly in any future election. Back in 2012 when the Supreme Court was debating the constitutionality of the Affordable Care Act, the governor was very hopeful it would be shot out of the water, calling it an "unprecedented and dangerous overreach" according to Perry's website. An appeal of the ACA is still in the works, with 26 states signed on in asking the Supreme Court to reconsider.
The nonpartisan Kaiser Family Foundation notes that Texas has "the highest percentage of uninsured of any state," and that its uninsured rate "far exceeds the U.S. average of 16 percent." The study also notes that under the ACA between 1.8 million and 2.5 million individuals would be added to the state's Medicaid program by 2019.
"Some people have poked fun at me this week for sounding like an insurance salesman. And that's okay. I'd still be out there championing this law even if the website were perfect," said President Obama in his weekly address, referring to online hiccups in the government healthcare website. "For the first time last Thursday and Friday, we were able to go completely through the website with people who were dealing with our counselors at Parkland Hospital and get them to pick a plan and get to the point where all they needed to do was send in their check," said Clay Jenkins, the Dallas County Judge.
"That can be hit or miss, but it continues to improve regularly. This was going to be a monumental challenge in Texas anyways. It's critically important that we step into the gap created by the state's unwillingness to work with the feds on this to find some solution," said Jenkins, according to the New York Times.
"I'll never stop fighting to help hard working Americans know the economic security of health care. That's something we should all want. As I've said many times before, I'm willing to work with anyone, on any idea, who's actually willing to make this law perform better. But it's well past the time for folks to stop rooting for its failure. Because hardworking, middle-class families are rooting for its success," said Obama in his address.
Don't Miss: Here's Why Investors Will Be Risk-Averse This Week.