Presidential Candidate Dr. Ron Paul Loves Gold and Gold Miners
Presidential candidate Dr. Ron Paul has been the topic of political debate recently, although not so much in the mainstream media. Politics aside, investors may want to take note of Dr. Ron Paul's other success, his investment portfolio.
Barron's recently released an article detailing Dr. Ron Paul's investment portfolio, which is heavily invested in gold miners (NYSE:GDXJ). The article drew heavy fire from long-time gold bull and Euro Pacific CEO, Peter Schiff.  One of the issues he has with the article is that it fails to look at the longer-term picture of gold (NYSE:GLD).  The article calls Dr. Ron Paul's investment strategy a "stopped clock" approach that has "finally paid off," as if gold prices are just now starting to rise.  Peter Schiff exclaimed, "It hasn't finally paid off, it's paid off every single year over the last 12 years, with the exception of one year, 2008.  Who cares how badly they performed in 2008, where are they now?  This article is being written in 2011, we now know the losses in 2008 have been completely eradicated by the rally, not the case for the regular stock market.  Instead of giving Ron Paul credit for having the foresight  to stay in gold stocks for 12 years, instead he's saying he was a stopped clock. What about all the other candidates who just kept their money in the S&P 500 over the past 12 years.  Aren't they stopped clocks?  Oh no, they're prudent, they've done the same thing over the past 12 years.  The difference is Ron Paul's strategy has made a lot of money, and their strategy has not."
Check Out: Is Another Gold Boom Waiting to Happen?
After reading Barron's article, it's easy to understand what Schiff is talking about.  The article also has a list with Paul's top holdings.  Unfortunately, the timeline of returns are only 1-3 years.  Dr. Ron Paul's top three holdings are Goldcorp (NYSE:GG), Barrick Gold (NYSE:ABX), and Newmont Mining (NYSE:NEM).  The one year return on these gold miners, according to the Barron's article, are 19.13%, 12.24%, and 1.12% respectively.  However, Schiff is quick to point out these returns do the gold miners (NYSE:GDXJ) no justice.  He explains that Ron Paul has owned these gold miners for a long time, before 2003.  If you look at the 10 year returns for these stocks, there is a completely different picture.  Peter Schiff says, "Since 2001, Goldcorp is up over 1,000%, Barrick Gold is up over 700%, and Newmont Mining is up 300%.  The dog of his top 10 holdings is up 300%!  Where is the Dow?
Peter Schiff's question on the Dow can be answered with the chart below: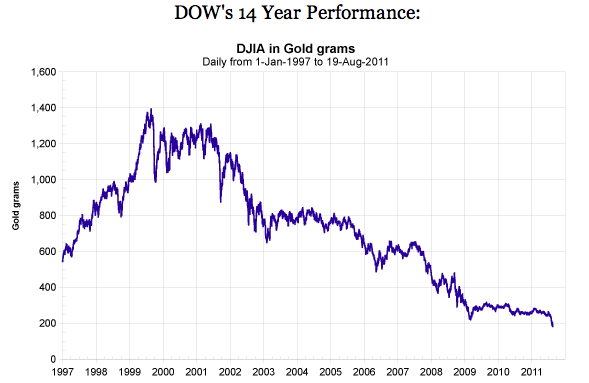 (Source: Priced in Gold)
Some may view Dr. Ron Paul's portfolio as a doom and gloom allocation.  However, it could also be said that his portfolio shows that he understands the fundamentals of the U.S. economy better than most, and unlike some politicians, doesn't waver from his beliefs.  Dr. Ron Paul has been a strong advocate of sound money for years.
Is Gold the Safe Haven? For more analysis on support levels and ranges for gold and silver, consider a free 14-day trial to our acclaimed Gold & Silver Investment Newsletter.
Disclosure: Long AGQ