Prestige Brands Holdings, Inc. (PBH) reported its results for the most recent quarter. Prestige Brands Holdings, Inc. sells well-recognized, brand name over-the-counter healthcare, household cleaning and personal care products in a global marketplace.
Don't Miss: Wall St. Cheat Sheet's newest Feature Trades of the Month!
Prestige Brands Holdings, Inc. Earnings Cheat Sheet
Results: Net income for the company was $6.4 million (13 cents/share), up from $3.3 million in the year ago quarter.
Actual vs. Wall St. Expectations: PBH fell short of the mean analyst estimate of 18 cents/share. Estimates ranged from 16 cents per share to 20 cents per share.
Quoting Management: "Fiscal 2011 has been an extremely productive and transformative year for Prestige Brands," said Matthew M. Mannelly, President and CEO. "In particular, we are pleased that the Company delivered 4.1% organic revenue growth in the quarter, exclusive of acquisitions. Our strategy to build brands through increased, innovative and effective A&P support is delivering the expected results. In addition to revenue growth, this is evidenced through accelerating consumption growth trends. For the fourth quarter, consumption for the Company's brands grew 20.6%, up from 14.2% in the third quarter, 3.4% in the second quarter and a negative 6.4% in the first quarter."
Companies to Watch: The Procter & Gamble Co. (NYSE:PG), Johnson & Johnson (NYSE:JNJ), Merck & Co., Inc. (NYSE:MRK), Perrigo Company (NASDAQ:PRGO), Watson Pharmaceuticals, Inc. (NYSE:WPI), Taro Pharmaceutical Industries Ltd. (TAROF), Hi-Tech Pharmacal Co. (NASDAQ:HITK), Allergan, Inc. (NYSE:AGN), GlaxoSmithKline plc (NYSE:GSK), Wal-Mart (NYSE:WMT), Target (NYSE:TGT), Walgreen (NYSE:WAG), CVS (NYSE:CVS) Teva Pharmaceutical (NASDAQ:TEVA), Clorox (NYSE:CLX) and Akorn, Inc. (NASDAQ:AKRX)
Stock Performance: Shares of PBH are unchanged from the previous close of $11.44.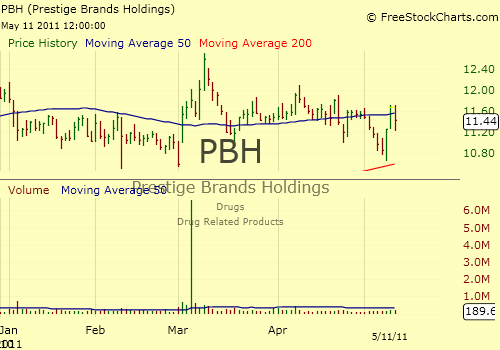 Don't Miss Wall St. Cheat Sheet's newest Feature Trades of the Month!