Priceline.com Earnings: Five Quarters of Gross Margin Expansion
S&P 500 (NYSE:SPY) component priceline.com Incorporated (NASDAQ:PCLN) reported net income above Wall Street's expectations for the first quarter. Priceline.com, Inc. is an online travel company that offers travel services, including hotel rooms, airline tickets, vacation packages, car rentals, cruises and destination services.
Don't Miss: Wall St. Cheat Sheet's newest Feature Trades of the Month!
priceline.com Incorporated Earnings Cheat Sheet for the First Quarter
Results: Net income for the entertainment company rose to $104.8 million ($2.05/share) vs. $53.9 million ($1.06/share) in the same quarter a year earlier. A rise of 94.5% from the year earlier quarter.
Revenue: Rose 38.5% to $809.3 million YoY.
Actual vs. Wall St. Expectations: PCLN reported adjusted net income of of $2.66/share. By that measure, the company beat the mean estimate of $2.45/share. Estimates ranged from $2.36 per share to $2.65 per share.
Quoting Management: "In the 1st quarter, the Group benefitted from strong growth in our global hotel business, particularly at Booking.com and Agoda," said Jeffery H. Boyd, Priceline President and Chief Executive Officer. "Room nights booked grew by 55.8% and our international gross bookings grew by 79% compared to prior year first quarter. The Group's hotel business continues to benefit from improving ADRs, a continuing shift from offline to online bookings, increased penetration of core European and North American markets and outstanding growth in new markets throughout the Asia-Pacific region and South America."
Key Stats:
The company has enjoyed double-digit year-over-year revenue growth for the past five quarters. Over that span, the company has averaged growth of 32.8%, with the biggest boost coming in the most recent quarter when revenue rose 38.5% from the year earlier quarter.
Last quarter marked the fifth consecutive quarter of gross margins expanding as the company's gross margin expanded 7.9 percentage points to 62.5% from the year earlier quarter. Over that span, margins have grown on average 9.7 percentage points per quarter on a year-over-year basis.
From the fourth quarter of the last fiscal year, the company's current liabilities rose to $1.09 billion from $471.2 million.
The company has now seen net income rise in two-straight quarters. In the fourth quarter of the last fiscal year, net income rose 73% from the year earlier.
Competitors to Watch: Orbitz Worldwide, Inc. (NYSE:OWW), Expedia, Inc. (NASDAQ:EXPE), Travelzoo Inc. (NASDAQ:TZOO), Universal Travel Group (NYSE:UTA), Ctrip.com Intl., Ltd. (NASDAQ:CTRP), Viad Corp (NYSE:VVI), Green Globe Intl. Inc (GGII), Interval Leisure Group, Inc. (NASDAQ:IILG), OneTravel Holdings Inc. (OTVLQ), and hotel.de AG (HTL)
Stock Performance: Shares of PCLN are trading up 2% from the previous closing price of $537.56.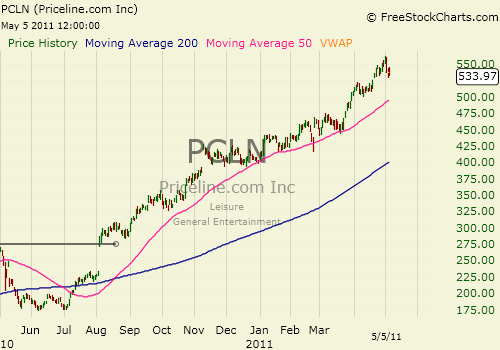 Don't Miss Wall St. Cheat Sheet's newest Feature Trades of the Month!