S&P 500 (NYSE:SPY) component Procter & Gamble Co. (NYSE:PG) reported its results for the third quarter. Procter & Gamble Co. sells and markets consumer products such as pharmaceuticals, cleaning supplies, personal care, and pet supplies in more than 180 countries.
Don't Miss: Wall St. Cheat Sheet's newest Feature Trades of the Month!
Procter & Gamble Earnings Cheat Sheet for the Third Quarter
Results: Net income for Procter & Gamble Co. rose to $2.87 billion (96 cents/share) vs. $2.58 billion (83 cents/share) in the same quarter a year earlier. A rise of 11.1% from the year earlier quarter.
Revenue: Rose 5.5% to $20.23 billion YoY.
Actual vs. Wall St. Expectations: PG fell short of the mean analyst estimate of 97 cents/share. Estimates ranged from 95 cents per share to $1 per share.
Quoting Management: "The growth fundamentals of our business are strong," said Chairman of the Board, President and Chief Executive Officer Bob McDonald. "We delivered broad-based volume, sales, and market share growth, and grew EPS in a very difficult operating environment. We increased our dividend for the 55th consecutive year, by nine percent. We continue to advance our Purpose-inspired growth strategy of improving the lives of more consumers, in more parts of the world, more completely."
Key Stats:
Last quarter's profit increase breaks a streak of four consecutive quarters of year-over-year profit drops. In second quarter, net income fell 28.5% from the year earlier while the figure fell 6.8% in the first quarter, 11.6% four quarters ago and 1.1% five quarters back.
Over the last five quarters, revenue has increased 2.8% on average year over year. The biggest increase came in the most recent quarter, when revenue rose 5.5% from the year earlier quarter.
Competitors to Watch: Church & Dwight Co., Inc. (NYSE:CHD), Colgate-Palmolive Company (NYSE:CL), The Clorox Company (NYSE:CLX), Henkel AG & Co. (HEN3), Kimberly-Clark Corporation (NYSE:KMB), Johnson & Johnson (NYSE:JNJ), Teva Pharmaceutical Industries Ltd (NASDAQ:TEVA), The Stephan Co. (SPCO), CCA Industries, Inc. (AMEX:CAW), and Zep, Inc. (NYSE:ZEP).
Today's Performance: Shares of PG are trading at $64.29 as of April 28, 2011 at 12:24 PM ET, up 0.4% from the previous closing price of $64.02.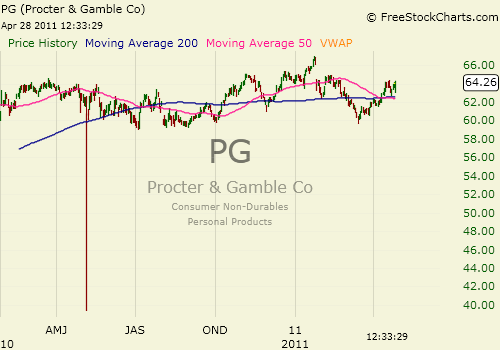 Don't Miss Wall St. Cheat Sheet's newest Feature Trades of the Month!