Procter & Gamble Rolls Dice with These New Strategies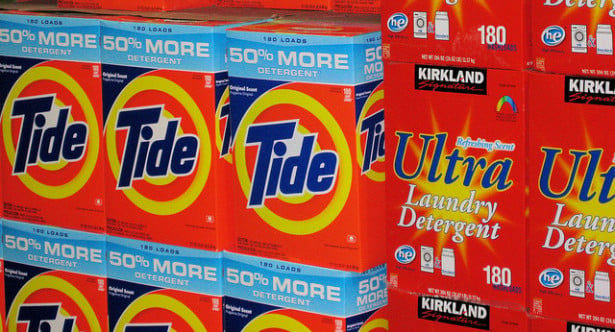 Will consumers explore the high end of products as basic as paper towels and tampons? Procter & Gamble Co. (NYSE:PG) is betting such a strategy will bring it more market share in the second-thought aisles of supermarkets everywhere. However, the consumer staples powerhouse is also testing a lower-price version of its most recognized detergent, a signal the company is willing to come back to earth.
A Wall Street Journal report looked at the more expensive versions of paper towels (Bounty DuraTowel) and feminine products (Tampax Radiant Collection) Procter & Gamble believes consumers will add 20 percent to their bills to acquire. Investors have been skeptical of the average consumer's willingness to head in that direction for items so basic — or, as in the case of paper towels, unnecessary — to daily life.
In fact, Procter & Gamble seemed on the verge of acknowledging customer trends by announcing it would release a lower-price version of its Tide laundry detergent. According to the Cincinnati Business Courier, P&G would situate this less expensive Tide below the current products yet just above other bargain brands like Church & Dwight's (NYSE:CHD) Arm & Hammer detergents. The possibility of cannibalizing its own Tide business is clear.
Procter & Gamble Chief Executive Officer A.G. Lafley told analysts this week the company had "mid-tier customers" in laundry detergent in mind. While that soap consumer may be difficult to pin down, the surprising element is the company's track in both directions. As Lafley pursues the higher end in some consumer staples, he's acknowledging the advantage of lowering prices, though it's clear there is a danger in giving Tide customers a more affordable option right next to the product they're buying.
"Product quality and noticeable performance benefits are critical dimensions of value in virtually every consumer's purchase decision," Lafley told analysts this week at the Barclays Back to School Conference.
In the case of products that are incredibly absorbent and expensively packaged, as the Bounty DuraTowels are, the difference in the product segment is palpable. However, in the case of Tide, Procter & Gamble may have difficulty convincing customers the same old Tide is of significantly higher quality than the Tide it sells at a lower price.
Don't Miss: 4 Impossible Concept Cars and 4 Real-World Alternatives.