Procter & Gamble Said to Be Planning Lafley Successor and 2 Other Dow Movers to Watch
Procter & Gamble Co. (NYSE:PG): Current price $76.95
It was recently reported in The Wall Street Journal that Procter & Gamble's brand new Chief Executive Alan George Lafley intends to promote four senior executives as presidents of four re-organized sectors, who will report directly to him. Last week, the c0mpany retrieved its previous chief executive Lafley to immediately supplant its existing CEO Robert McDonald, so as to revive its currently struggling business. The Journal now is reporting that knowledgeable sources say that the four new presidents will likely be in line to succeed Lafley, who is not expected to serve as CEO for more than 2 to 3 years.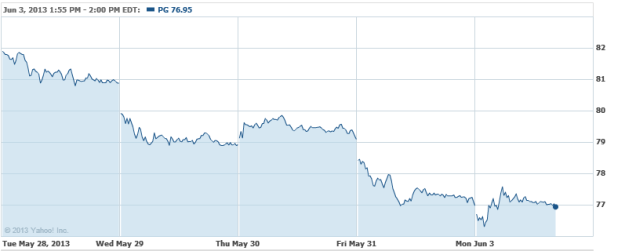 Wal-Mart Stores (NYSE:WMT): Current price $75.56
On Monday, Wal-Mart said that it is offering a money-back guarantee on the fresh produce it sells in its United States stores. The retailer is the biggest grocer and seller of produce in the country, and has already reduced prices on produce as it endeavors to get its shoppers to stock up on more healthy fare. Other chains, like Safeway (NYSE:SWY), already offer guarantees on their produce, but Wal-Mart's initiative will be the largest since it is the nation's biggest retailer. Wal-Mart customers who are unsatisfied with the produce may bring their receipt back to the store for a refund, and they not need to bring back the produce in order to qualify.

ExxonMobil Corporation (NYSE:XOM): Current price $91.05
The cargo inspection data management firm Navarik Corp. announced Monday that ExxonMobil is the most recent oil major to reach an agreement for the Navarik Inspection system, which has been deployed worldwide by major oil firms and an OPEC member, and is now the standard for cargo inspection management within the petroleum industry. Navarik Inspection attained this leadership position by supplying the automation, standardization and business intelligence needed for companies to mitigate operational risk, grow output, and make better trading decisions.

Don't Miss: Miller on Safety in Bangladesh Factories.