Procter & Gamble Sues CAO Group and 2 Other Dow Movers to Watch
Procter & Gamble (NYSE:PG): Current price $78.87
On Monday, Procter & Gamble filed an infringement lawsuit against CAO Group in the Southern District of Ohio. CAO Group, a maker and distributor of dental products, is accused is violating P&G's intellectual property by manufacturing and selling its Sheer White, Sheer FluorX, and Sheer DesenZ products. P&G brought a suit against CAO Group so as to protect its investment in its tech and its Crest Whitestrips division.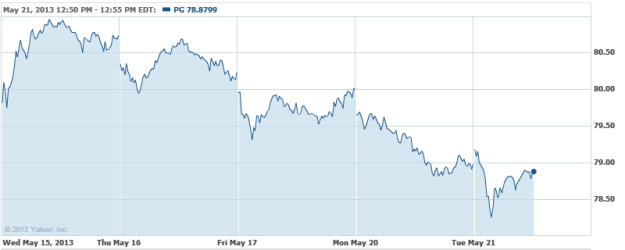 Bank of America Corporation (NYSE:BAC): Current price $13.46
An annual survey conducted by Bank of America's U.S. Trust division indicates that millionaires have reversed their priorities during the past year, now to concentrate upon making money instead of preserving it, thus waiting to transfer their cash into stocks. Some 60 percent of individuals with a minimum of $3 million in investable assets responded that asset growth is a higher priority than preservation, to the survey that is being released on Tuesday. Last year, 58 percent of respondents ranked protecting their wealth as more important than searching out higher returns in riskier investments. However, U.S. Trust President Keith Banks says that the change in attitudes has not been translated into action by most, as the majority of those surveyed, or 56 percent, indicated that they hold a large amount of money in cash accounts, with only 16 percent planning to move the money in the next few months.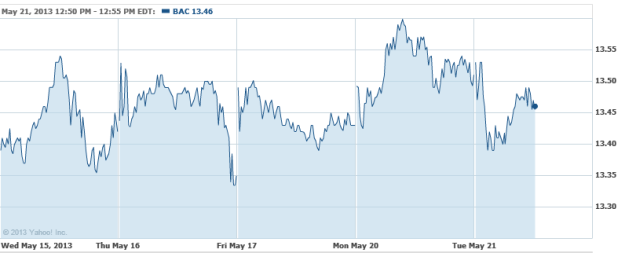 The Travelers Companies (NYSE:TRV): Current price $83.50
Travelers has debuted the new Construction PakSM – Builders' Risk, which is an improved product which gives broad, tailored coverage in an easy-to-use form. President, Travelers Inland Marine Joe Tracy commented that "Construction today is not like it was a decade or even five years ago. With emerging technologies and new building methodologies, there is a need for proactive coverage, and services that can help keep projects on budget and on schedule. Travelers' new Builders' Risk coverage protects contractors, owners, and developers, keeps their projects moving forward and offers peace of mind."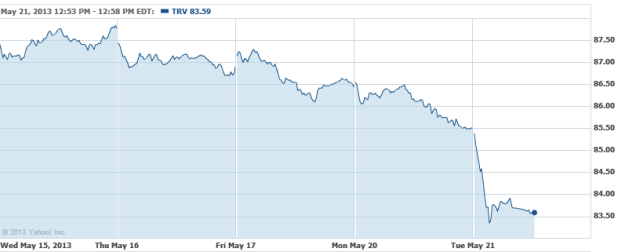 Investing Insights: Is Tiffany a Dangerous Investment Here?