Producers of Popular Antibacterial Soaps Must Prove Efficiency and Safety, Says FDA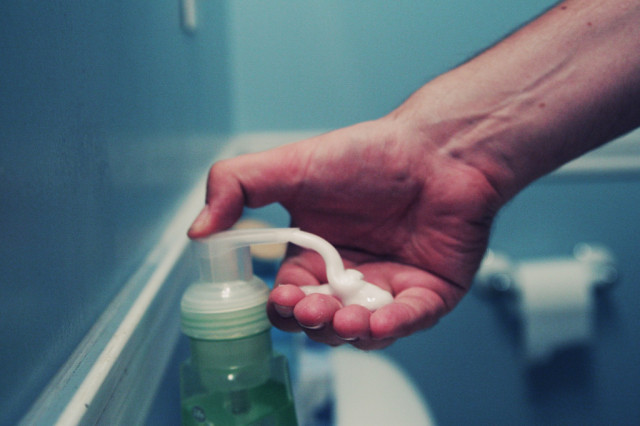 The FDA is challenging the effectiveness of so-called "antibacterial" soaps, and has announced that it plans to give companies one year to prove that their products are both safe and more effective than the old stand-by, plain soap and water. Producers of the products in question will have to conduct clinical studies that indicate whether there are negative long term effects as a result of continued use. If the soaps prove to be unsafe the active ingredient will have to be removed from the soaps' formula.
Antibacterial soap washes have been part of an ongoing debate in the U.S. for over 40 years now about whether antibacterial products, and the chemicals they contain, are over-used. There is also widespread concern that the extended use of the products help to increase the prevalence of super bugs and that some of the ingredients used in the washes, in particular triclosan, or triclocarban have been linked to both hormone imbalances and antibiotic resistance.
A senator from Massachusetts, Edward J. Markey, who pressed the FDA to subject the products to closer investigation, remarked in a statement that federal authorities have "acknowledged the potential for triclosan to interfere with the body's thyroid hormone, which is important for brain development and function, particularly in children."
Despite the ongoing concerns and lack of added health benefits, antibacterial soaps, such as those manufactured by companies like Johnson & Johnson (NYSE:JNJ), Procter & Gamble (NYSE:PG), Henkl AG's Dial, and Reckitt Benckiser Group Plc, the company that makes Lysol's products, are widely used and continue to be popular with consumers. "Especially because so many consumers use them, FDA believes that there should be a clearly demonstrated benefits to balance any potential risks," said the FDA in a consumer update.
Part of the FDA as well as consumers' issues with the products comes from the fact that certain ingredients in the antibacterial soaps made by those companies — specifically triclosan — were never intended for mass consumer use, having originally been intended as a surgical scrub, first introduced in the 1970s.
As a result of the debate over the ingredients safety, some makers, such as Johnson & Johnson and Procter & Gamble, have vowed to discontinue using triclosan in their products. Johnson & Johnson has said that it will have eliminated the ingredient from it's formulas by 2015, and Procter & Gamble has made plans to eliminate the chemical even sooner, hopefully by the end of 2014, the company has said.
Don't Miss: 4 Reasons Why Employers May Choose Private Healthcare Exchanges.