Production Surge: Ford Will Meet All Your Fusion Needs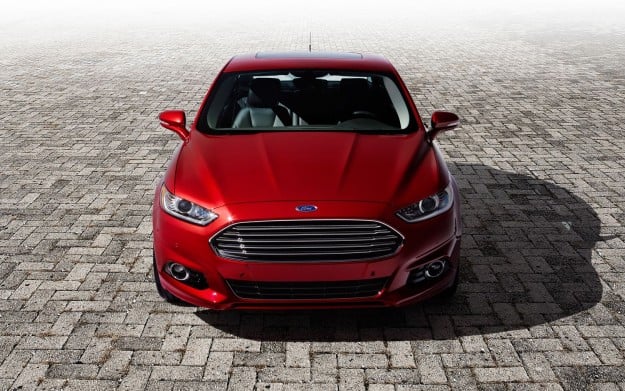 One of Ford Motor Co.'s (NYSE:F) biggest problems used to be competing with Toyota's (NYSE:TM) longtime best-selling car, the Camry. But now, thanks to raging sales of the company's 2013 Fusion, the U.S. automaker has a different kind of problem on its hands — the car's supply is having trouble meeting the increased demand.
It's likely an issue that Ford is more than happy to handle, and according to Bloomberg, the company is doing so by rolling its Fusion family cars off the supply line at an assembly plant 20 miles south of its headquarters in Dearborn, Michigan. The vehicle has always been made at a plant in Hermosillo, Mexico, but now, due to overwhelming demand, Ford is hiring more workers and producing the car at both plants, targeting a production goal of 350,000 to 360,000 Fusions by the end of this year.
The need for increased vehicle output is a much-welcomed change from the sales decline that Ford was battling as it continued to feel the effects of it bankruptcy blunders during the U.S. financial crisis, but the success of the Fusion, as well as that of many other best-selling cars and trucks this summer, have more than proven to consumers that the No. 2 U.S. automaker is back on track — and it's here to stay.
In fact, not only is Ford back, it's doing even better than it was before by successfully drawing in customers from locations that have always been weak spots for U.S. automakers, especially those on the East and West Coasts. California residents especially are flooding dealerships trying to get their hands on the new fuel efficient car after many years of turning their noses up at U.S. automakers. In addition, they're also thankfully not turned off by the higher Fusion price, evidenced by the continuing open wallets.
This allows Ford to enjoy a more than $2,300-per sale premium that the Fusion holds over the Camry and it still doesn't look like that number is going to come down anytime soon. Bloomberg points out that the average prices of the Toyota Camry have fallen 2 percent since last year, but in comparison, the Fusion's average price has climbed 5.8 percent to $26,323.
Luckily, Chief Executive Officer Alan Mulally doesn't expect the Fusion prices to go down anytime soon, maintaining that the car doesn't "face any significant risk of serious price degradation."
A lot of that success can be attributed to the Fusion's attractive design coupled with its impressive fuel economy. According to Alan Baum, an independent auto analyst in West Bloomfield, Michigan, the sedan can be powered by a standard gasoline engine, three turbocharged EcoBoosts, and hybrid and plug-in hybrid powertrains. This improved fuel economy, marketed at 47 miles per gallon highway, especially helps the re-designed Fusion sell well in places like California and other coastal markets, while its sleek design doesn't hurt matters either.
The car's sales have surged 13 percent so far this year, and luckily, Ford is working to increase Fusion output to meet that augmented demand. Pretty soon, rival automakers like Toyota and Honda Motor Company (NYSE:HMC) might have reason to worry that their Camry and Accord vehicles might soon be only a distant memory, but they, too, just may have a little mid-segment trick up their sleeves.