Profit May Have Quadrupled, but Pfizer Couldn't Hide Steep Sales Drop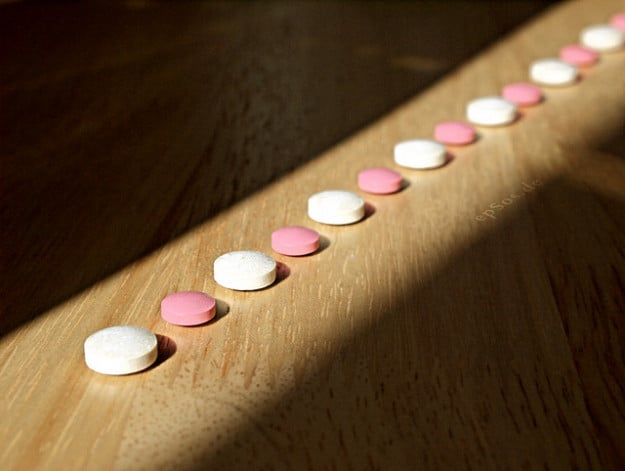 Since Pfizer's (NYSE:PFE) patent for its blockbuster cholesterol medicine Lipitor expired in 2011, earnings and revenue have been hurting. While profit has improved in recent quarters — as the company cut costs and brought new drugs to market — the fact that the drugmaker quadrupled profit in the second quarter did not quite hide the firm's steeper-than-expected drop in sales. Still, earnings — which came largely on the back of increased asset sales — did beat analysts' expectations.
Pfizer reported a profit of $14.1 billion, or $1.98 per share, an increase from $3.25 billion, or 43 cents per share, a year earlier. However, excluding items like asset-sales earnings, acquisitions costs, and restructuring charges, adjusted earnings dropped to 56 cents per share, down from 59 cents per share in the year-ago quarter. Revenue also declined, falling 7.1 percent to $12.97 billion. Analysts polled by Thomson Reuters expected the company to earn 55 cents per share, on a revenue of $13.01 billion.
The biggest hit to revenue came from the loss of patent exclusivity on Lipitor, but shifts in government purchasing patterns for orders of Pfizer's Prevnar pneumococcal vaccine also affected results.
On Monday, the drugmaker announced that it will proceed to follow plans to internally separate its commercial operations into three business segments, each with its own top executive, who will report to Chairman and Chief Executive Officer Ian Read. Two of the new units will sell patent-protected, branded drugs, while the third will sell generic medicines.
Earlier this year, the company said it was in the process of examining the finances and marketing of its patent-protected drug operations, known internally as its "innovative" business, and its generic or "value" business, as a possible precursor to selling its generic business in the future. Many analysts have been pushing for Pfizer to make that split, since the company's generic business — which accounts for 17 percent of total sales — has lower profit margins than its patent-protected pharmaceuticals.
"This new model represents the next step in Pfizer's journey to further revitalize our innovative core, enhance the value of our consumer and off-patent established brands and maximize the use of our capital to create value for Pfizer and our patients, consumers and shareholders," said Read, in the earnings press release. Within the drugmaker's core, or "innovative" business, revenue in the Oncology segment rose 28 percent, thanks to sales of new products like Inlyta and Xalkori. Additional sales of Lyrica increased 14 percent in developed markets, while Celebrex sales grew 13 percent in the United States.
Other pharmaceutical companies have also been reshaping their businesses in order to divest slower-growing and maturing operations. For example, Abbott Laboratories (NYSE:ABT) decided to split off its innovative drug business into AbbVie (NYSE:ABBV), a move that has prompted industry analysts to consider whether certain companies or groups of investors may be better suited to certain assets.
This year to date, shares of Pfizer have advanced almost 18 percent, while shares have gained close to 24 percent in the past 12 months. Much of the increase has come alongside shareholder friendly actions — Pfizer has shed nonpharmaceutical assets this year, and then used the proceeds to fund share repurchases. The company also split off its remaining interest in its former animal-health unit, Zoetis (NYSE:ZTS), which went public in February. Following the earnings report, Pfizer's stock rose 0.61 percent to $29.54 in premarket trading.
"Overall, I am pleased with our financial performance so far this year, despite the continued impact of product losses of exclusivity and a challenging operating environment," said Chief Financial Officer Frank D'Amelio, in the release. "We are reaffirming all components of our 2013 adjusted financial guidance, which reflects our performance to date, confidence in the business, financial flexibility and a rigorous expense-management process." Pfizer expects full-year earnings of $2.10 to $2.20 per share.
Follow Meghan on Twitter @MFoley_WSCS