Public Storage Earnings: Funds From Operations Rises Drastically
S&P 500 (NYSE:SPY) component Public Storage (NYSE:PSA) reported net income for the first quarter. Public Storage is a real estate investment trust (REIT) with a focus on the acquisition, development, ownership and operation of self-storage facilities. The company provides individuals and businesses with storage spaces for lease, generally on a month-to-month basis.
Don't Miss: Wall St. Cheat Sheet's newest Feature Trades of the Month!
Public Storage Earnings Cheat Sheet for the First Quarter
Results: Funds From Operations (FFO) was $1.48 per share, compared with $0.78 per share in the same quarter a year ago.
Actual vs. Wall St. Expectations: The mean estimate for PSA was $1.33/share. Estimates ranged from $1.25 per share to $1.53 per share.
Competitors to Watch: Extra Space Storage, Inc. (NYSE:EXR), U-Store-It Trust (NYSE:YSI), Sovran Self Storage, Inc. (NYSE:SSS), PS Business Parks, Inc. (NYSE:PSB), Banyan Rail Services Inc. (BARA), Boomerang Systems, Inc. (BMER), Vortex Resources Corp. (BOPT), and American Business Corp. (ARBU)
Stock Performance: Shares of PSA are unchanged.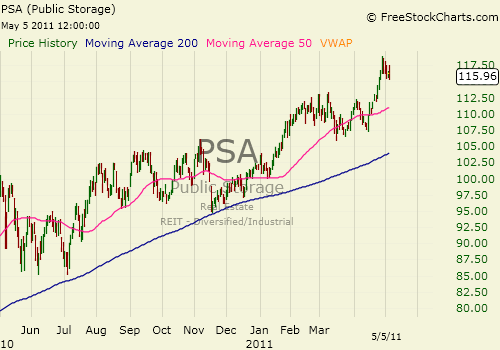 Don't Miss Wall St. Cheat Sheet's newest Feature Trades of the Month!