Q3 GDP Growth: Pleasant Surprise But the Economy Needs More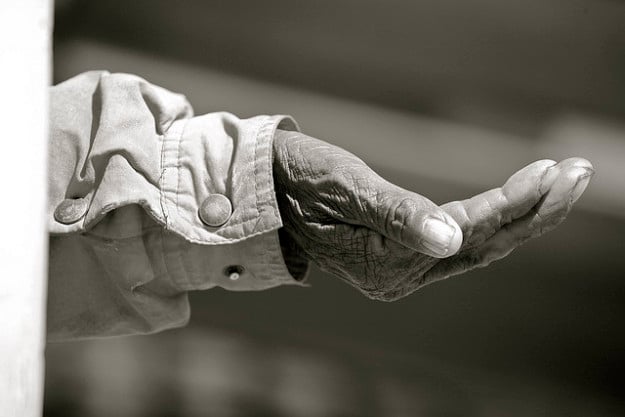 Economists are still worrying how large of an effect the 16-day partial shutdown of the federal government — which cost the United States a total of $24 billion, according to Standard & Poor's economist Beth Ann Bovino — will have on fourth-quarter gross domestic product. For now, economists expect the economy to grow at an annualized rate of between 1.5 percent and 2 percent with Washington's political crisis reducing fourth-quarter GDP by some 0.3 percent. At that rate, overall 2013 growth will amount to amount to around 2 percent — below the economy's longer run growth rate and slower than last year's 2.8 percent pace.
Still, compared with the first quarter's 1.1 percent annualized growth rate, the economy has gained some momentum in the past six months, with a 2.5 percent pace recorded in the second quarter and a larger-than-expected increase in third-quarter economic activity. The Department of Commerce reported Thursday morning that GDP — the broadest measure of goods and services produced in the United States — grew at an annual rate of 2.8 percent in the July-through-September period. But the stronger reading masked underlying weakness in consumer and business spending, an indication that the economic recovery is still struggling.
Data suggests that the economic growth is remaining at the same weak pace that has characterized the five year long recovery, despite expectations for an acceleration in the second half of the year. That acceleration now seems unlikely.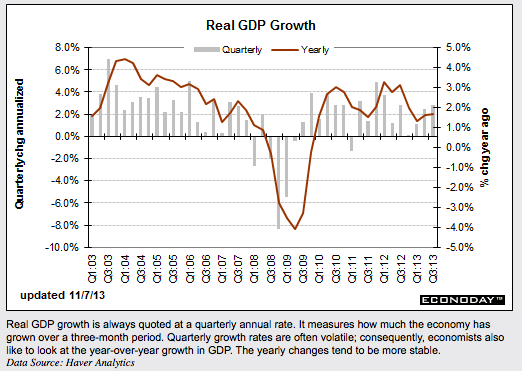 Economists had expected third-quarter GDP of 2 percent. The acceleration of GDP primarily reflected a decrease in imports, and a rise in private sector inventory investment, meaning businesses spent more on restocking their shelves — an increase that added 0.8 percentage point to growth. However, because businesses spent more on inventory in the past quarter, companies are expected to produce less in the current quarter in compensation, especially if consumer and business spending remains low.
Consumers spent less in the third quarter and business cut their equipment purchases — two developments that acted as drags on economic growth. Decreases in growth in both those sectors suggests that increasing interest rates, which have made borrowing more expensive, as well as the budget battles in Washington, have hurt the economic confidence of both individuals and businesses. Gallup's measure of economic confidence reflects a similar reality, at least on an individual basis. The October reading of Gallup's Economic Confidence Index showed a 16-point drop, the single largest monthly decline since the daily measurement began in 2008.
Business spending on nonresidential equipment, a key measure of a company' willingness to invest, dropped 3.7 percent. That decrease marked the second time that business spending has dropped since the economic recovery began four years ago, and therefore, signals that the political dysfunction in Washington has begun to make business uneasy and unwilling to spend.
Consumer spending grew at an anemic 1.5 percent pace, matching the slowest pace of growth in more than 3 1/2 years. Americans may be buying long-lasting — and much-needed — items like cars, but they are spending less on services and keeping purchases to more immediate necessities. For economists, the slow growth of consumer spending is of particular concern.
Consumer spending accounts for approximately 70 percent of gross domestic product, and because government and business spending have remained weak, the economy is depending even more on household spending to fuel growth. In the past quarter, federal government spending dropped once again, falling at a 1.7 percent rate, partially offsetting spending increases at the state and local government level. In fact, state and local governments spent at 1.5 percent, the fastest pace in four years.
The housing market remained a source of strength, with home constructing contributing positively to GDP growth. At the beginning of the year, the housing market recovery gained momentum, as pent-up demand spilled over and families and investors, convinced the bottom of the market had indeed passed, began purchasing homes in earnest. While rising mortgage rates have made the home purchases less affordable, relatively strong demand has been good for homebuilders. Overall investment spending across the economy grew 9.5 percent after rising 9.2 percent in the second quarter, growth that largely reflected strength in the housing sector. A GDP gain of this magnitude was far from expected, but stocks remained relatively flat after the data was released.
Follow Meghan on Twitter @MFoley_WSCS
Don't Miss: How Many Americans Actually Have a Full-Time Job?