QUALCOMM Ranks on Best Companies List and 4 Chip and Big Data Stocks on the Move
Intel Corporation (NASDAQ:INTC): Current price $21.16
The Standard & Poor's 500 Index increased to a five year-high and then U.S. stocks pulled back, as data indicated that consumer sentiment surprisingly dropped and Intel reported a second consecutive quarter of declining sales. Intel fell by 6.5 percent to lead tech shares down.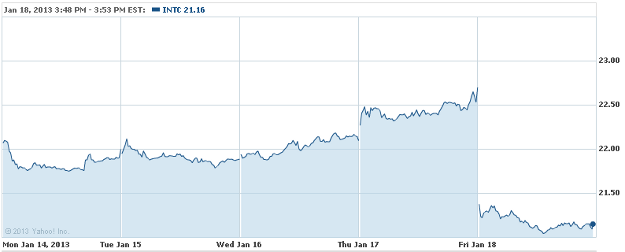 Broadcom Corporation (NASDAQ:BRCM): Current price $34.77
The managing director of Broadcom, Rajiv Kapur, has hinted that, "We are in talks with a leading Indian handset player to launch smartphones based on our singe, dual and quad core processors."
Start 2013 better than ever by saving time and making money with your Limited Time Offer for our highly-acclaimed Stock Picker Newsletter. Click here for our fresh Feature Stock Pick now!
Qualcomm (NASDAQ:QCOM): Current price $64.68
Qualcomm and Scripps Health are two San Diego-based firms that made Fortune's 2013 list of the 100 best companies to work for in the United States. Each company moved up the list from their rankings in 2012.

Rackspace Hosting (NYSE:RAX): Current price $77.75
On Friday, Rackspace announced that  it has climbed to the 34th rank on Fortune's annual list of the "100 Best Companies to Work For." The firm has ranked as one of America's top workplaces in five of the past six years.

EMC Corporation (NYSE:EMC): Closing price $24.29
EMC Corporation, which supplies data storage products and services, has updated its EMC VMAX family, making it efficient for mission-critical applications in VMware virtualized environments for enterprises of all sizes.

Don't Miss: Will Intel Underperform in the First Quarter?