Qualcomm Ranks on Best Employers List and 4 Chip and Big Data Stocks on the Move
Intel Corporation (NASDAQ:INTC): Current price $20.92
Intel Corporation is allegedly imposing a pay freeze on their staff and posted vacancies have not yet been filled. The company, which is trying to rearrange themselves into a mobile player while leveraging Ultrabooks into a popular consumer device, has recently seen profits decline and revenues have dropped significantly. Intel hopes to restore the cash and the freeze would get them through the tough times.

Broadcom Corp. (NASDAQ:BRCM): Current price $32.31
Broadcom Corp. recently announced a quarterly dividend which is scheduled for Monday, March 4th. Stockholders of record on Friday, February 15th will be paid a dividend of $0.11 per share. This represents a $0.44 annualized dividend and a dividend yield of 1.35%. The ex-dividend date is Wednesday, February 13th. This is a boost from Broadcom Corp's previous quarterly dividend of $0.10.
Are these stocks a buy or sell? Let us help you decide. Check out our Stock Picker Newsletter now.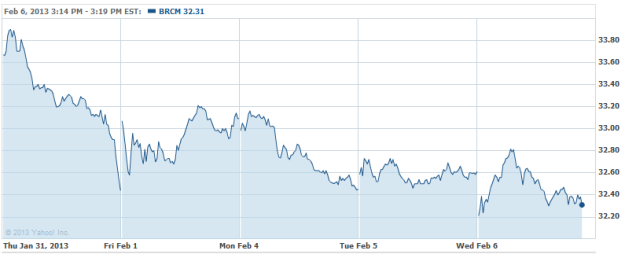 QUALCOMM Incorporated (NASDAQ:QCOM):  Current price $66.99
For the 15th year in a row, Qualcomm Incorporated was named to Fortune Magazine's 100 Best Companies to Work for in 2013.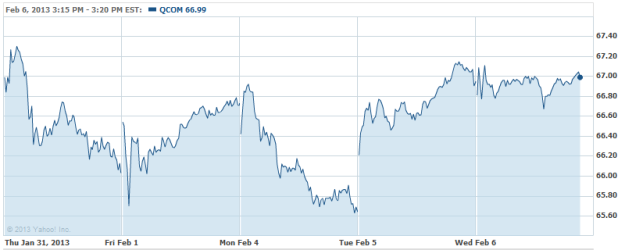 ARM Holdings PLC. (NASDAQ:ARMH):  Current price $43.85
ARM Holdings has reported strong numbers for their fourth quarter and fiscal 2012 results. For the quarter, the British semiconductor company's revenue advanced 19% year over year to an equivalent of $263 million, while net profit grew by 28% to $66.8 million, or $0.15 per diluted share. Pre-tax profit rose 16% to $125.8 million.

EMC Corporation (NYSE:EMC):  Current price $24.68
EMC Corporation announced that St. Dominic Hospital, a 535-bed acute care facility in Jackson, Mississippi, consolidated their legacy storage infrastructure onto EMC Isilon scale-out storage to manage their Big Data requirements. With EMC Isilon, St. Dominics is enabling dramatically faster and more reliable access to medical images and patient records while supporting 20% annual data growth and ongoing expansion of the hospital.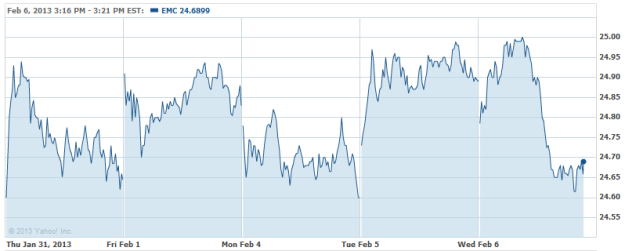 Don't Miss: Which Company is Right? H-P or Dell?