Shares of American International Group (NYSE:AIG) jumped nearly 3 percent in late afternoon trading. The insurer posted earnings of $1.34 per share, easily topping estimates of 87 cents per share. "AIG's results this quarter reflect the depth of our global operations, the market's demand for the products and services we offer, and the strong performance of our investment portfolio," said Robert H. Benmosche, president and chief executive officer. "We are pleased with these results and look to continue to build on our successes, especially as we continue to make progress towards achieving our 2015 aspirational goals."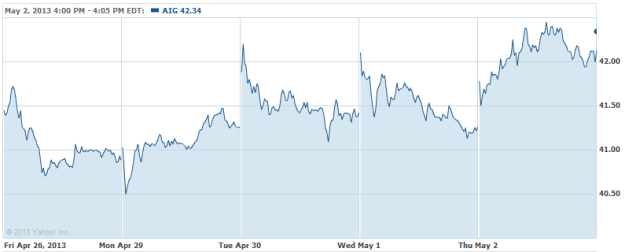 LinkedIn (NYSE:LNKD) shares plunged more than 10 percent in late afternoon hours. The company reported a surge in profit for the first quarter, but its outlook was disappointing.  Net income came in at $22.6 million (20 cents per share), compared to $4.99 million (4 cents per share) a year earlier. For the current quarter, LinkedIn expects revenue between $342 million and $347 million. Analysts were expecting revenue of $360 million. Facebook (NASDAQ:FB) shares also edged lower in late afternoon hours, but closed 5.6 percent higher on Thursday.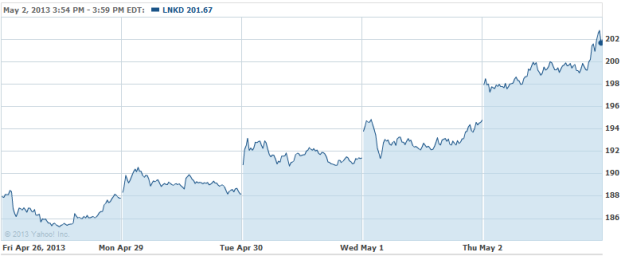 Shares of Apple (NASDAQ:AAPL) gained 1.4 percent on Thursday and continue to edge higher in late afternoon trading. A recently published patent reveals that Apple is continuing to develop its near field communication capabilities, or NFC, in anticipation of future retail shopping technologies. Although the patent has the unglamorous title of "Method of Setting Payment Option Preferences," this patent essentially outlines a future where your iPhone becomes your virtual wallet and shopping assistant.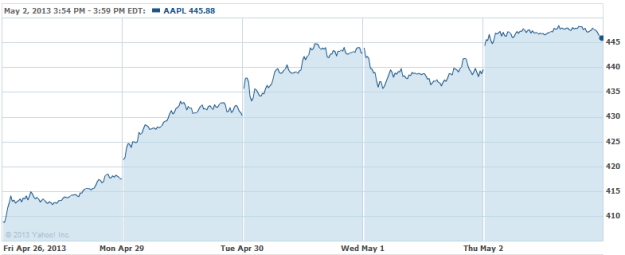 Gilead Sciences (NASDAQ:GILD) edged slightly higher in late afternoon hours, despite reporting earnings that missed estimates. The biotech company earned 48 cents per share, 2 cents shy of Wall Street's forecast. Revenue was also weaker than expected, but still increased 11 percent from the prior year.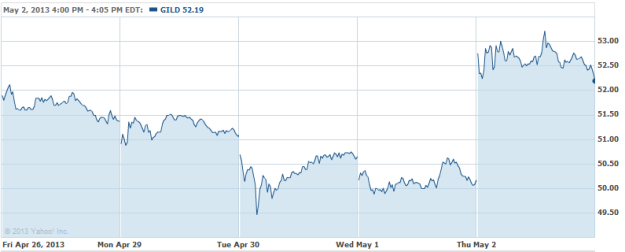 Don't Miss: 5 Ways to Spend Your Tax Refund on Your Home