Radar Movers: Apple and Bank of America Charge Higher, First Solar Misses on Earnings
After making a new all-time high on Monday, Disney (NYSE:DIS) shares continued to climb higher in late afternoon hours. The company announced that it selected Electronic Arts (NASDAQ:EA) to create new Star Wars games. EA explains, "The magic of Star Wars is interwoven into the worlds, characters, planets and amazing battles. It is a universe that lends itself perfectly to gaming. Our agreement unlocks a whole new future of Star Wars games that will span consoles, PCs, tablets, mobile and more." Financial terms on the deal were not disclosed.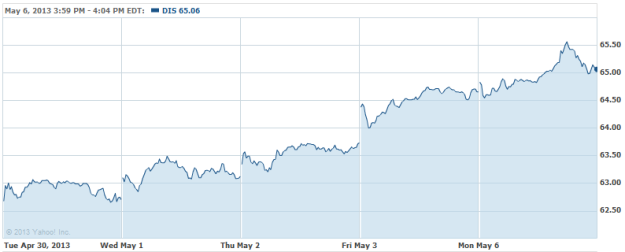 Shares of First Solar (NASDAQ:FSLR) edged slightly lower in late afternoon trading. The solar company reported quarterly earnings of 66 cents per share, below expectations of 75 cents per share. However, revenue surged 52 percent to $755 million. "We demonstrated progress on several fronts during the first quarter, including continued strengthening of our balance sheet and additions to our pipeline," said Jim Hughes, chief executive officer. "We remain on track for the year and reaffirm our full-year 2013 financial guidance and are focused on achieving our goal of new bookings to shipments ratio of one-to-one."

Bank of America (NYSE:BAC) shares surged 5.2 percent on Monday and continued to attract attention in late afternoon hours. The bank agreed to a $1.6 billion cash settlement with MBIA. The bond insurer will drop its legal battle against Countrywide, which was acquired by Bank of America in 2008.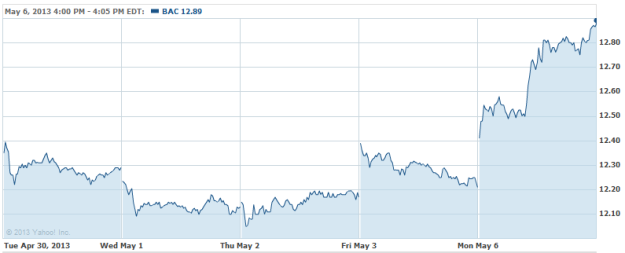 Shares of Apple (NASDAQ:AAPL) jumped more than 2 percent on Monday and continued to edge higher in late afternoon trading. Barclays analyst Ben Reitzes reiterated an Overweight rating on the stock and increased his price target from $465 to $525, slightly below the current mean analyst estimate, but still pretty bullish. He is reportedly looking for a Mac event in June, and an iPhone or iPad event in September. What's more, he thinks that margin estimates for the coming quarter are conservative. Apple guided gross margins in a range between 36 and 37 percent, which would be a decline from second-quarter margins of 37.5 percent.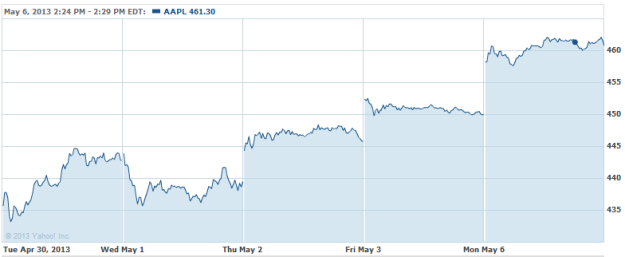 Don't Miss: Does the Fed Keep Warren Buffett Up at Night?