Radar Movers: Apple and BlackBerry Skip Rally, Wal-Mart to Inspect All Factories in Bangladesh
Shares of Wal-Mart (NYSE:WMT) dipped in late afternoon trading. The world's largest retailer said it will conduct safety inspections at all of its 279 suppliers' factories in Bangladesh. The move comes after a factory collapsed and claimed more than 1,100 lives.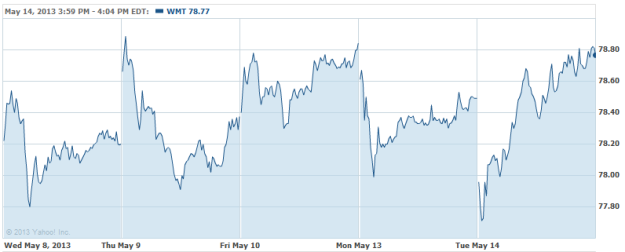 Facebook (NASDAQ:FB) shares gained almost 1 percent on Tuesday, despite news that its new smartphone feature is becoming a social outcast. As HTC's smartphone that integrates' Facebook's social-networking features has not proved to be overwhelming popular with AT&T's (NYSE:T) 107.3 million subscribers, the second-largest U.S. wireless carrier has said it is considering whether to stop selling the only smartphone preloaded with Facebook Home. The phone's price has already been dropped by about $100 to just 99 cents, one month after its debut.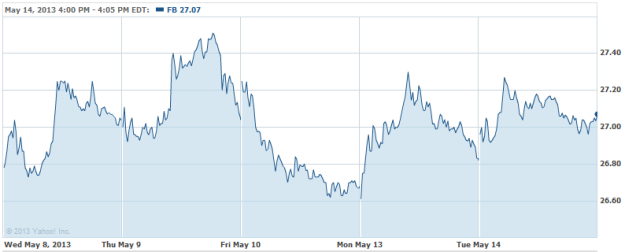 BlackBerry (NASDAQ:BBRY) shares fell 4 percent on Tuesday, but edged slightly higher in late afternoon hours and continues to stay near $15. The company unveiled a new smartphone called the Q5 for emerging markets, and expanded its messaging service to the iPhone and Android (NASDAQ:GOOG) devices.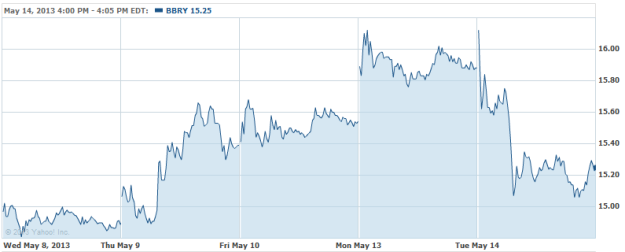 Shares of Apple (NASDAQ:AAPL) dropped 2.4 percent on Tuesday, and continues to attract attention in late afternoon trading. Hedge Fund manager David Tepper remains bullish on the stock market in general, but has some reservations when it comes to Cupertino's best. The company needs to "do something," he says, whether it's a cheap iPhone or bigger screen, if the company doesn't have something "revolutionary" coming, it had better do something "evolutionary." If there's nothing by September, Tepper will have his finger on the sell button.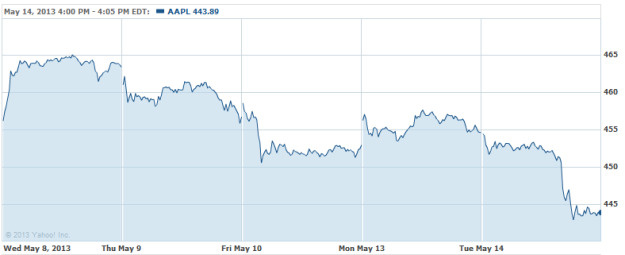 Don't Miss: Is the Average Joe Still Buying Apple?