Radar Movers: Apple and J.C. Penney Climb Higher, Amazon Sinks 7%
Shares of J.C. Penney (NYSE:JCP) edged slightly lower in late afternoon hours, after surging more than 11 percent on Friday. A recent SEC filing from Soros Fund Management shows the firm has a 7.9 percent stake in the struggling retailer, making it one of the largest holders of J.C. Penney. Furthermore, Goldman Sachs (NYSE:GS) has lined up a $1.75 billion financing deal for the retailer, easing cash-burning concerns.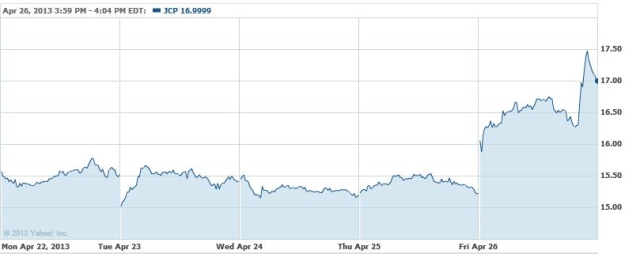 Amazon.com (NASDAQ:AMZN) shares plunged 7.2 percent on Friday, and continued to decline in late afternoon trading. The world's largest online retailer announced first-quarter results late Thursday. Net income came in at $82 million (18 cents per share), compared to $130 million (28 cents per share) a year earlier. Revenue jumped 22 percent to $16.07 million, but fell below estimates calling for $16.15 billion.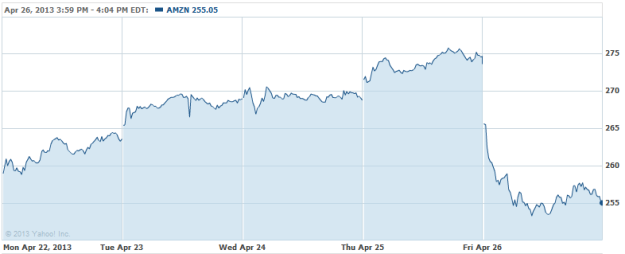 Shares of Apple (NASDAQ:AAPL) jumped 2 percent on Friday and continued to attract attention in late afternoon hours. ABG Sundal Collier analyst Per Lindberg has upgraded shares of Apple from Sell to Hold, revealed in a report issued on Thursday. "The central ingredients unveiled, directly and indirectly, in conjunction with the second quarter report should help to assuage previously far elevated earnings expectations," Lindberg wrote. "As (1) revenue growth comes to an abrupt halt, (2) margin erosion undermines EPS comparisons, (3) inventories of iPhones and iPads build in the channel, (4) operators openly rebel against anti-competitive business practices, and (5) consumers request far greater affordability. These salient inferences – underpinning our negative stance in the recent past – persist. They are now more or less confirmed. They also appear to be more broadly understood."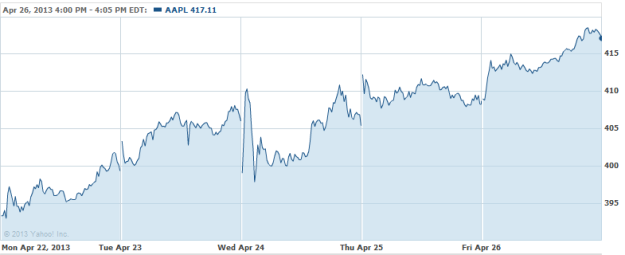 Burger King Worldwide (NYSE:BKW) shares jumped more than 1 percent after reporting first-quarter financial results. Net income rose to $35.8 million (10 cents per share), compared to only $14.3 million (4 cents per share) a year earlier.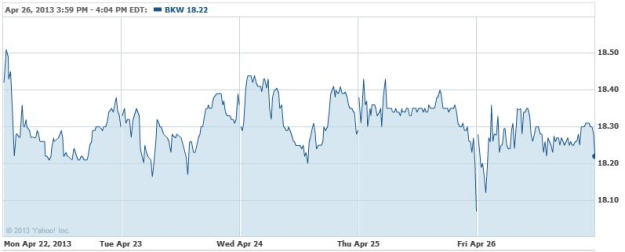 Don't Miss: Which Tech Players Dominate the Internet?