Radar Movers: Apple Has a Hit at T-Mobile, Groupon and Green Mountain Surge Higher
Groupon (NASDAQ:GRPN) shares surged more than 14 percent in late afternoon hours. The company reported first-quarter earnings of 3 cents per share, excluding items. Revenue jumped 8 percent to $601.4 million, compared to 559.3 million a year earlier. "We are encouraged by our results, as our local revenues accelerated and our margins improved over the prior quarter," said Eric Lefkofsky, chairman and chief executive officer. "We had record mobile performance as 45 percent of our North American transactions came from mobile in March, and more than 7 million people downloaded our apps in the quarter."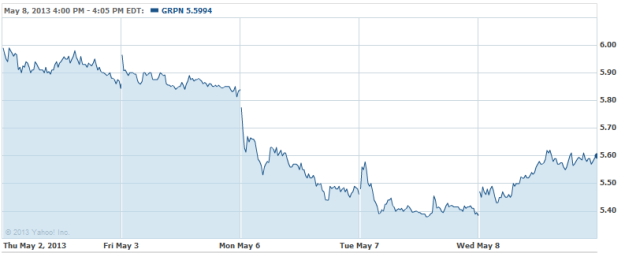 Yahoo! (NASDAQ:YHOO) shares continue to edge higher in late afternoon hours, as the company seeks to unravel its 10-year search advertising pact with Microsoft (NASDAQ:MSFT), Bloomberg reported Wednesday. Yahoo CEO Marissa Mayer has been unsuccessfully trying to end this partnership ever since joining Yahoo in July. Mayer seems to be interested in teaming up with her former employer, Google (NASDAQ:GOOG), but has met resistance from Microsoft.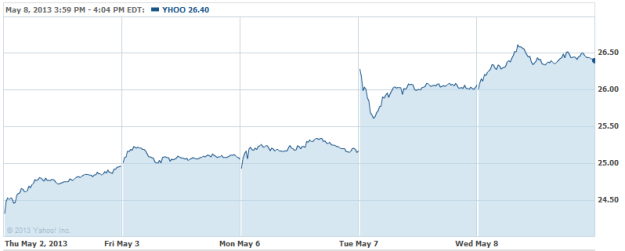 Green Mountain Coffee Roasters (NASDAQ:GMCR) jumped 12.6 percent in late afternoon trading. The company signed a new five-year deal with Starbucks (NASDAQ:SBUX), which will now make single-serve packs for Green Mountain's Keurig machines.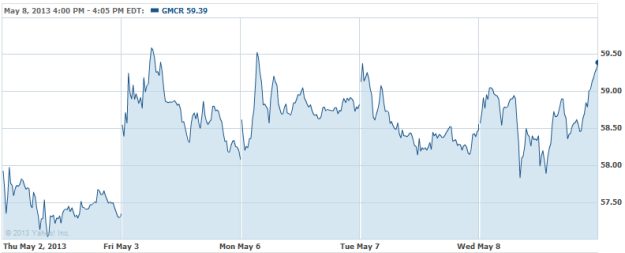 Shares of Apple (NASDAQ:AAPL) gained 1 percent on Wednesday and continue to climb higher in late afternoon trading. The tech giant sold 500,000 iPhones on the T-Mobile (NYSE:TMUS) network, since its launch only a few weeks ago. What makes it especially interesting is that the low-end carrier decided to opt to sell the iPhone unsubsidized with installment plans, over the traditional two-year contract that usually accompanies such phone purchases. Apple now has a whole new market to offer its phone through, with around 40 million subscribers who did not previously have access to Apple's best selling handset.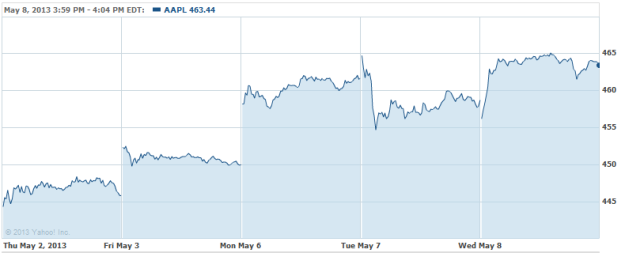 Don't Miss: Is Your Retirement Becoming More Conservative?