Radar Movers: Apple iPhone 5S Predictions, First Solar and Realogy Cause Shockwaves
Shares of First Solar (NASDAQ:FSLR) exploded 45 percent higher on Tuesday and continue to attract attention in late afternoon hours. The company announced that it expects 2013 earnings to come in between $4 and $4.50 per share, above Wall Street's estimate of $3.51 per share. The sales guidance of $3.8 billion to $4 billion also beat expectations.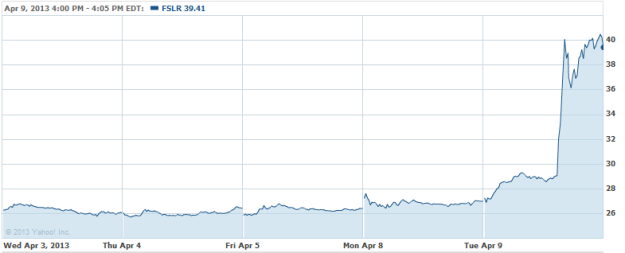 Ford Motor (NYSE:F) shares dipped 0.16 percent in late afternoon trading, after gaining 0.16 percent on Tuesday. The company announced that the Focus was the best-selling vehicle nameplate worldwide in 2012. Sales of the compact came in at 1,020,410, according to Polk data, with U.S. sales up 40 percent for the year. Ford also announced that March retail sales in China climbed 65 percent to 81,387 units, a new record. More than 25 percent of sales of the Ford Focus were in China, where registrations were up 51 percent in 2012. General Motors (NYSE:GM) shares also dipped in late afternoon trading.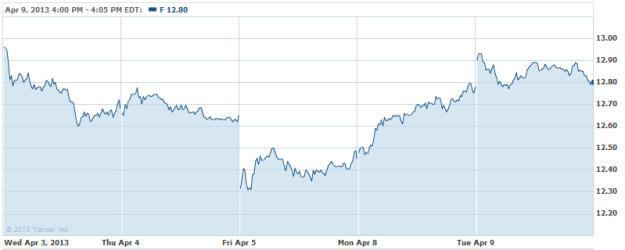 Shares of Realogy Holdings (NYSE:RLGY) plunged nearly 7 percent after announcing preliminary first-quarter financial results. The net loss for the quarter is expected to be in the range of $69 million to $78 million. The real estate firm also announced "an underwritten public offering of 35 million shares of its common stock by certain funds affiliated with Apollo Global Management."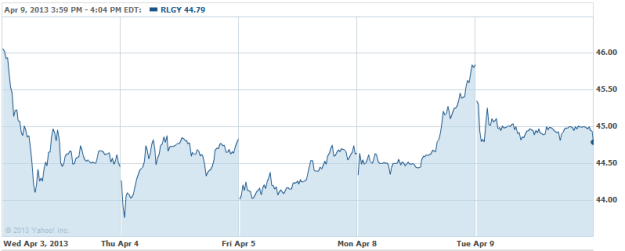 Apple (NASDAQ:AAPL) shares edged slightly higher in late afternoon hours. Analyst Brian White from Topeka Capital believe the tech giant will release its next-generation iPhone with "at least" two different screen sizes. He wrote in a research note Tuesday, seen by AppleInsider, that there is even a possibility that the company's so-called "iPhone 5S" will launch with three separate screen sizes.

Don't Miss: The "Recovery" is Still Missing on Main Street