Radar Movers: Apple Jumps 2%, Yum! Declines on Avian Flu Scare
Shares of Yum! Brands (NYSE:YUM) dropped more than 2 percent in late afternoon hours. The restaurant chain reported that same-store sales tumbled nearly 13 percent in China. "Within the past week, publicity associated with Avian flu in China has had a significant, negative impact on KFC sales," explains the company in an SEC filing. "Historically in these situations, we have educated consumers that properly cooked chicken is perfectly safe to eat, and we will continue to do so. We do not anticipate providing any further updates regarding China Division same-store sales until our scheduled first-quarter earnings release on April 23, 2013." Shares of McDonald's (NYSE:MCD) also declined.

Bed Bath & Beyond (NASDAQ:BBBY) shares jumped 2.3 percent in late afternoon hours. The company reported quarterly earnings of $1.68 per share, in line with analysts' estimates. However, revenue of $3.40 billion was slightly better than expected. During the fiscal fourth quarter of 2012, Bed Bath & Beyond repurchased approximately $305 million of its common stock, representing approximately 5.3 million shares.

Shares of Apple (NASDAQ:AAPL) gained 2 percent on Wednesday and continue to attract attention in late afternoon hours. According to the WSJ and people familiar with the matter, the iGadget-maker is discussing new ways of integrating services from Yahoo (NASDAQ:YHOO) onto iPhones and iPads.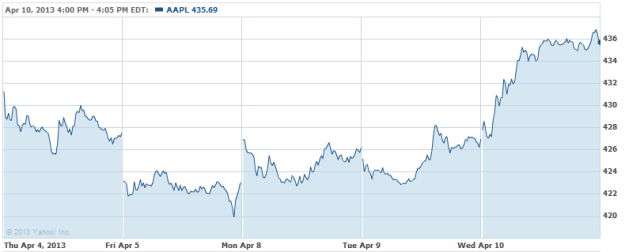 Facebook (NASDAQ:FB) shares jumped 3.7 percent on Wednesday and continue to climb higher in late afternoon trading. Reports indicate that the social network is rolling out a new tool that will allow advertisers to use third-party information to target ads at Facebook users. Advertisers will be able to combine Facebook's vast swaths of user data with information from data brokers like Acxiom (NASDAQ:ACXM) and Alliance Data Systems (NYSE:ADS).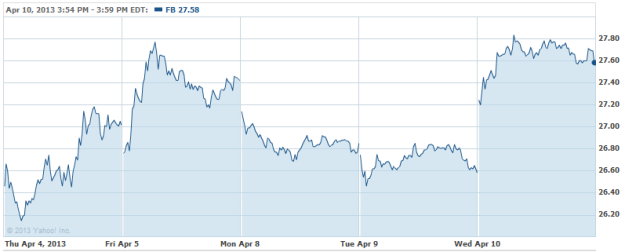 Don't Miss: Student Debt Weighs on Graduates Seeking Homeownership