Radar Movers: Apple Sinks 2.3%, Sprint Surges to New 52-Week Highs
Shares of Caterpillar (NYSE:CAT) dropped 3.3 percent on Monday and continue to edge lower in late afternoon hours. The company was the worst performer in the Dow, as the blue-chip index sold-off in its worst day of 2013. Furthermore, China growth fears resurfaced. The nation's economy expanded 7.7 percent in the first quarter, slower than the 7.9 percent pace seen in the previous quarter. The consensus forecast from Reuters called for an expansion of 8.0 percent.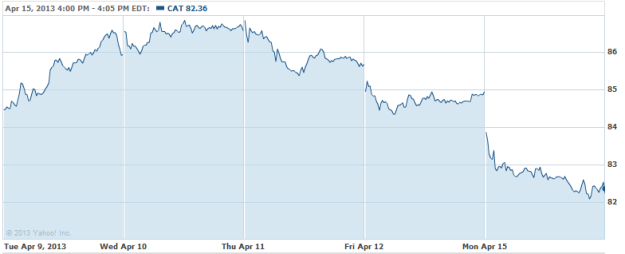 HCA Holdings (NYSE:HCA) shares plunged more than 4 percent in late afternoon trading. The company said it expects revenue of $8.44 billion for the first quarter, below expectations for $8.68 billion. Adjusted EBITDA for the first quarter is expected to be about $1.568 billion, down from $1.823 billion a year earlier.
Shares of Apple (NASDAQ:AAPL) declined 2.3 percent on Monday and continue to attract attention in late afternoon hours. According to KGI Securities analyst Ming-chi Kuo — who has a proven track record of predicting products, releases, and performance — Apple could be running behind on the estimates other analysts have been making. He cited potential problems with the technology in the iPhone 5S, iPad Mini 2, and a low-cost iPhone that would push launch dates past the average forecasts. However, one indicator that could signal that Apple's situation is not as bad as rumored is an increase in laborers producing the devices at Foxconn.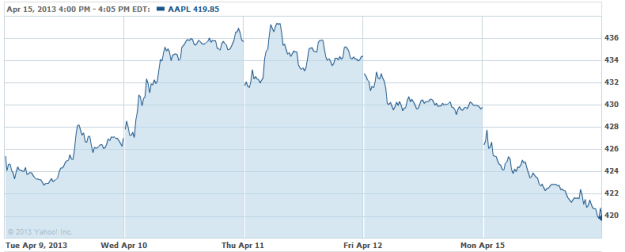 Sprint Nextel (NYSE:S) shares made fresh 52-week highs on Monday. Dish Network (NASDAQ:DISH) announced that it submitted a merger proposal to Sprint worth $25.5 billion in cash and stock. Sprint was up as much as 14 percent on the news. "The DISH proposal clearly represents superior value to Sprint shareholders, including greater ownership in a combined company that is better positioned for the future with more spectrum, products, subscribers, financial scale and new opportunities," DISH said in a statement.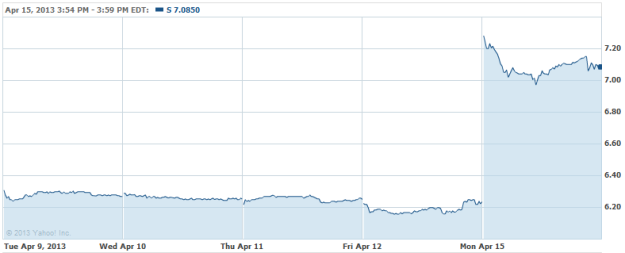 Don't Miss: Time to Get Bearish on the Tech Sector?