Radar Movers: Apple Sinks 9.1% on the Week, IBM Plunges 8.3%
Shares of International Business Machines (NYSE:IBM) plunged 8.3 percent on Friday, but are stabilizing in late afternoon hours. The computer giant announced disappointing first-quarter results late Thursday. Adjusted net income came in at $3.4 billion ($3.00 per share), compared to Wall Street's estimate of $3.05 per share. Revenue also dropped 5 percent in the quarter to $23.4 billion, below expectations of $24.6 billion.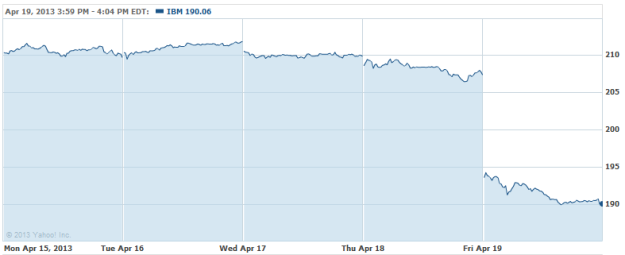 Apple (NASDAQ:AAPL) shares dropped 9.1 percent for the week, and continue to edge lower in late afternoon trading. Book publishing house Penguin opted to sever its ties with Apple, in efforts to settle an EU antitrust investigation that would have forced price limits on Amazon (NASDAQ:AMZN) and various other e-book publishers. Other parties involved have already settled matters with the EU, and Penguin's closing of the case would leave Apple as the only defendant that has yet to reach an agreement. If the EU accepts the terms, it will end the 16 month probe into Penguin's alleged anticompetitive practices.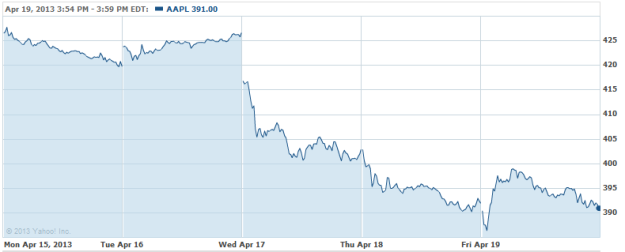 Shares of McDonald's (NYSE:MCD) fell nearly 2.0 percent on Friday, but edged slightly higher in late afternoon hours. Before the opening bell, the company announced it earned $1.27 billion ($1.26 per share) in the first quarter, compared to $1.266 billion ($1.23 per share) a year earlier. Revenue edged higher to $6.6 billion from $6.55 billion in the same period. Analysts were expecting earnings of $1.27 per share on revenue of $6.59 billion.

Take-Two Interactive Software (NASDAQ:TTWO) shares jumped 3.8 percent on Friday and continue to attract attention. According to research firm NPD Group, the video-game company's BioShock Infinite title was a primary driver of total software sales last month. In fact, BioShock was the best-selling game of March, ahead of Tomb Raider and Gears of War: Judgment.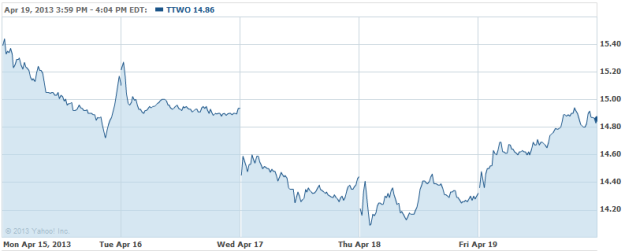 Don't Miss: SeaWorld Makes Big Splash on Wall Street