Radar Movers: Apple Still Dominates Web Traffic, Facebook Reports Mixed Financial Results
Shares of Yelp (NYSE:YELP) jumped more than 10 percent in late afternoon hours. The company reported better-than-expected results for the first quarter. Revenue surged 68 percent to $46.1 million, beating estimates of $44.6 million. Yelp also projects second-quarter revenue to be $52.5 million to $53.5 million. Wall Street was expecting revenue of $50.6 million in the second quarter.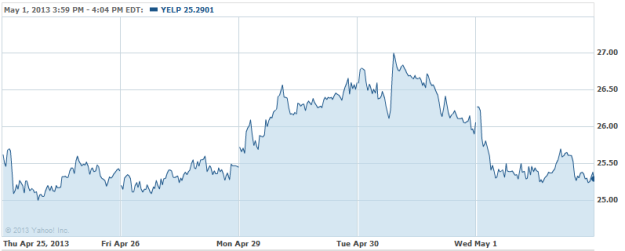 Visa (NYSE:V) shares gained 2 percent in late afternoon trading. The credit-card giant reported quarterly earnings of $1.92 per share, on revenue of $2.96 billion. Analysts were expecting earnings of $1.81 per share with revenue of $2.85 billion. "Visa's strong financial and operational performance reflects continued momentum across our core business during the fiscal second quarter," said Charlie Scharf, chief executive officer. "To drive future transaction growth, we continue to invest in new technologies, channels and capabilities to make Visa transactions more valuable, accessible and secure." MasterCard (NYSE:MA) shares also traded slightly higher.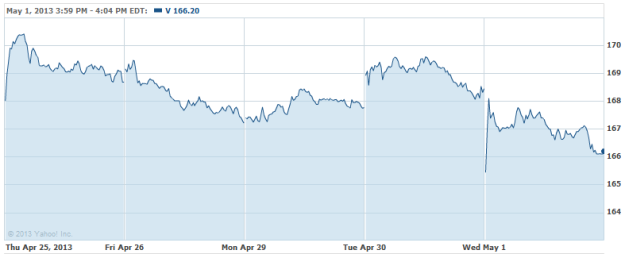 Shares of Facebook (NASDAQ:FB) edged slightly higher in late afternoon hours, after dipping in negative territory. The social-media company announced better-than-expected revenue for the first quarter, but earnings missed by one penny. Earnings excluding items came in at $312 million (12 cents per share), compared to $287 million (12 cents per share) a year earlier.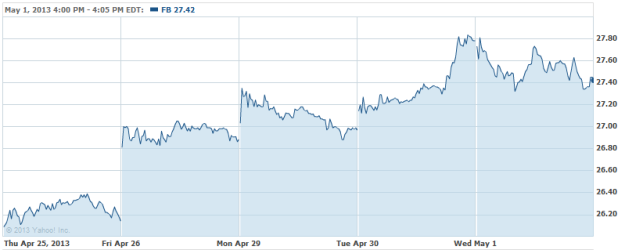 Apple (NASDAQ:AAPL) shares finished slightly lower on Wednesday. According to Net Market Share's latest report, Apple's share of web traffic on smartphones and tablets dipped 4.15 percent year-over-year in April. However, it still dominates the market with 59.04 percent of all web traffic, compared to 26.02 percent from Google's (NASDAQ:GOOG) Android operating system.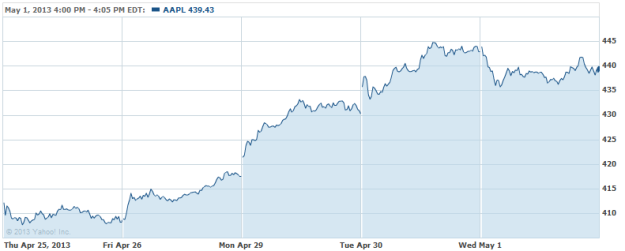 Don't Miss: Chart of the Day: These 5 American Giants Lead the Way