Radar Movers: Apple Tops Estimates, Yum! Brands Plunges 6%
Shares of AT&T (NYSE:T) dropped more than 2 percent in late afternoon hours. Despite gains in smartphones and wireless data, the company's revenue for the first quarter missed expectations. Coming in at $31.4 billion, revenue was down 1.5 percent compared with the same quarter last year, and slightly short of the consensus estimate. On an adjusted basis, the company reported earnings of 64 cents per share, which represented an 8.5 percent increase from the year-ago period. Verizon (NYSE:VZ) shares also dipped in late afternoon hours.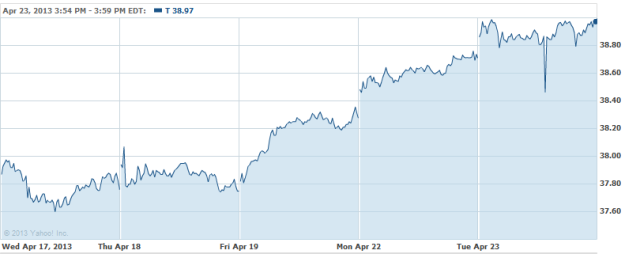 Yum! Brands (NYSE:YUM) surged more than 6 percent in late afternoon trading. The restaurant company announced earnings of 70 cents per share for the first quarter, compared to 67 cents a year earlier. David C. Novak, chief executive officer, notes, "The negative media surrounding poultry supply in China has subsided. We have taken steps to enhance our industry-leading supply chain practices, and we're now in the midst of an aggressive quality assurance marketing campaign."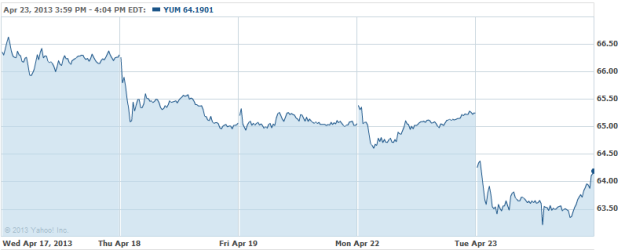 Shares of Apple (NASDAQ:AAPL) traded slightly higher in late afternoon hours after posting results for its fiscal second quarter. The tech giant reported a net profit of $9.5 billion ($10.09 per diluted share), compared to $11.62 billion ($12.30 per diluted share) a year earlier. Meanwhile, revenue increased 11 percent to $43.6 billion, from $39.2 billion in the same year-ago quarter. Analysts had expected Apple to earn $10.00 per share on $42.33 billion in revenue. Apple's own estimates called for revenue between $41 billion and $43 billion.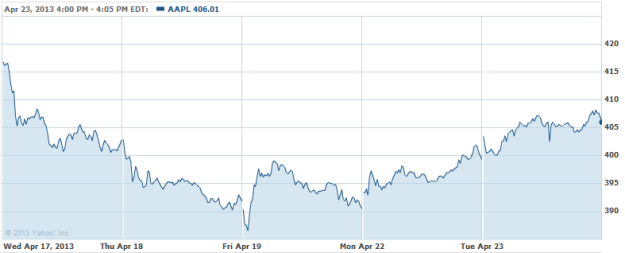 Amgen (NASDAQ:AMGN) shares plunged 6 percent in late afternoon trading. The biopharmaceutical company posted revenue of $4.2 billion for the recent quarter, below Wall Street's estimate of $4.37 billion.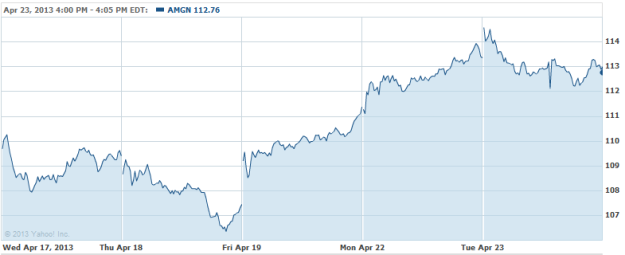 Don't Miss: Are Gun Stocks Ignoring Obama and Congress?