Radar Movers: Apple's Latest Product is a Huge Hit, Facebook and BlackBerry Jump
Facebook (NASDAQ:FB) shares jumped almost 3 percent on Tuesday and continue to edge higher in late afternoon hours. Investors do not appear to be worried about a dismal user report. Facebook lost 6 million users in the United States in the past month — a decrease of 4 percent — according to the analyst firm SocialBakers. In the United Kingdom, the social network's user count declined by 1.4 million, a drop of 4.5 percent. Even worse, the declines have been sustained. In the last six months, Facebook has lost close to 9 million monthly visitors in the U.S. and 2 million in the UK.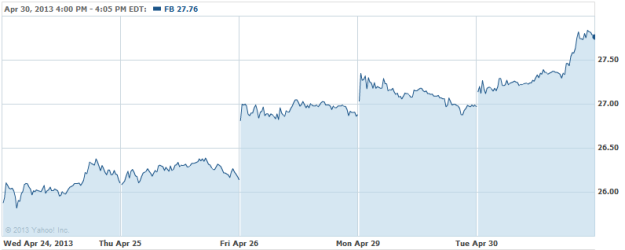 Shares of BlackBerry (NASDAQ:BBRY) posted another impressive day. Shares surged more than 4 percent and continue to attract attention in late afternoon trading. In addition to momentum from Z10 reports, Chief Executive Thorsten Heins made a bold prediction about the tablet market: "In five years, I don't think there'll be a reason to have a tablet anymore," he said at a conference, reports Bloomberg. "Maybe a big screen in your workspace, but not a tablet as such. Tablets themselves are not a good business model."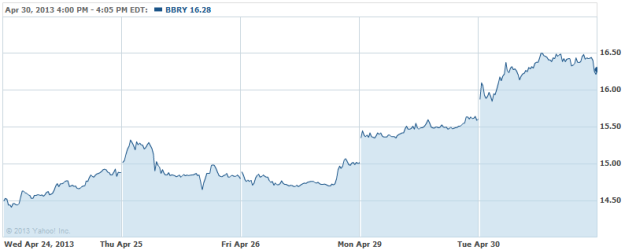 Questcor Pharmaceuticals (NASDAQ:QCOR) shares dropped 1.8 percent in late afternoon hours. The company reported quarterly earnings of 76 cents per share, below expectations for 96 cents per share. Revenue came in at $135 million, also disappointing Wall Street estimates.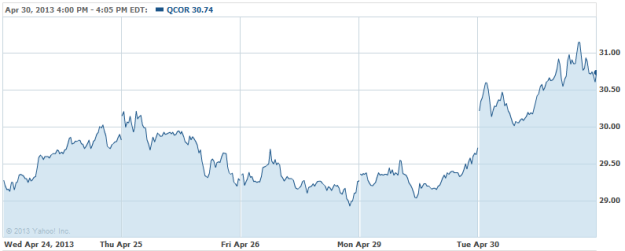 Apple (NASDAQ:AAPL) shares closed nearly 3 percent higher on Tuesday, as the tech giant released its new iBond to high demand. Apple sold $17 billion worth of bonds, the biggest offering ever for a non-financial U.S. corporate issuer. Maturities range from three to 30 years. Standard & Poor's rates the debt as AA+, while Moody's rates it as Aa1. Both ratings are just below the best grades possible. Other market giants such as Microsoft (NASDAQ:MSFT) and Johnson & Johnson (NYSE:JNJ) have the highest grades possible.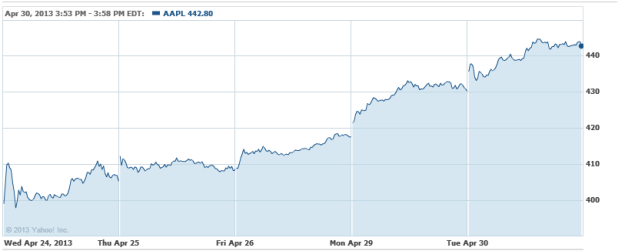 Don't Miss: Is the College Debt Bubble Starting to Crack?