Radar Movers: AT&T Expands Prepaid Services, Facebook Set for Huge Growth
Shares of Salesforce.com (NYSE:CRM) surged 12.6 percent on Friday and continued to edge higher in late afternoon hours. The company recently reported quarterly earnings of 9 cents per share excluding items, 2 cents better than expected. Revenue of $957 million also topped estimates calling for $939.2 million. "Salesforce.com continues to be the fastest growing software company of its size with year-over-year growth of more than 30 percent in revenue, deferred revenue, and operating cash flow," said Marc Benioff, chairman and chief executive officer.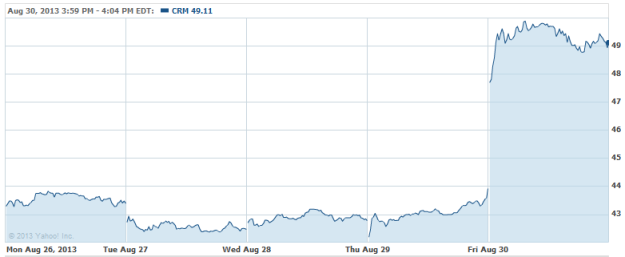 AT&T (NYSE:T) edged slightly higher on Friday. The company is expanding its Aio Wireless prepaid service to become available nationwide in the next month with the hopes of scooping up a bigger share of the no-contract wireless market. "Aio expects the service to roll out in multiple markets across the U.S. over the next year, with an initial launch today in select stores in Houston, Orlando and Tampa, and with additional stores in these three markets opening in the coming weeks," the AT&T subsidiary said in a statement. Aio claims that it "makes prepaid wireless easy," offering a choice of three different plans that cost between $35 and $73 per month. Shares of rival Verizon Communications (NYSE:VZ) declined almost 1 percent on Friday.

Shares of Facebook (NASDAQ:FB) finished the week strong. According to a recent eMarketer study, Facebook will see huge growth in its share of global mobile ad dollars this year. The social network is expected to reach a 15.8 percent share in global mobile Internet ad revenue this year, up from 5.35 percent in 2012, the first year Facebook had mobile ads. EMarketer previously estimated the figure would be around 12.9 percent.

Morgan Stanley (NYSE:MS) shares attracted attention on Friday. The Wall Street bank that owns one of the biggest brokerage on the planet has been sued by the National Credit Union Administration over the sale of $566 million in residential mortgage-backed securities to two credit unions which later failed. An August 16 filing in federal court in Kansas City indicated that Morgan Stanley and three of its divisions made misleading statements regarding the securities in offering documents.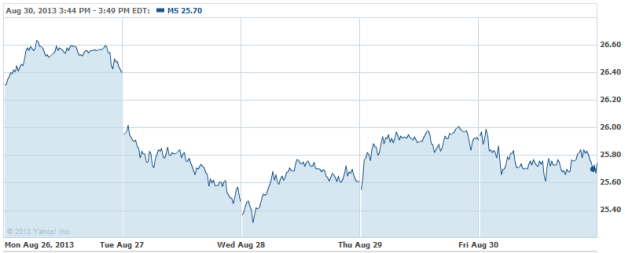 Don't Miss: Are You Saving Enough for Retirement?
Follow Eric on Twitter @Mr_Eric_WSCS