Radar Movers: Bank of America and Apple Lead Stocks Lower, eBay Falls 2%
Shares of eBay (NASDAQ:EBAY) declined more than 2 percent in late afternoon hours. The online auction company reported earnings of 63 cents per share for the first quarter, topping estimates by 1 cent. However, revenue of $3.75 billion fell short of the $3.77 billion expected by Wall Street. The outlook for the second quarter was also weaker than expected.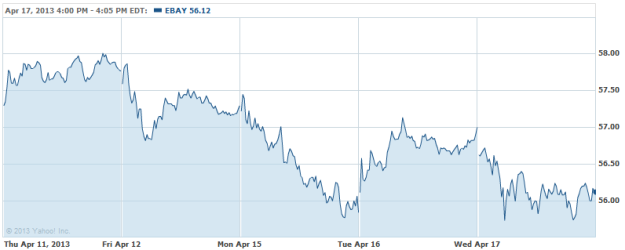 Bank of America (NYSE:BAC) shares dropped 4.7 percent on Wednesday and continue to attract attention in late afternoon trading. For the first quarter, the bank reported that net income rose to $2.62 billion (20 cents per share), compared to $653 million (3 cents per share) a year earlier. While total revenue climbed 5.5 percent to $23.5 billion, adjusted revenue dropped 8.4 percent to $23.65 billion, partly the result of lower revenue from trading in fixed income securities and mortgages. Analysts polled by Thomson Reuters had expected per share earnings of 22 cents on revenue of $23.41 billion. Shares of Goldman Sachs (NYSE:GS) also declined 2.4 percent on Wednesday.

Shares of American Express (NYSE:AXP) edged lower in late afternoon hours. The credit-card company reported a first-quarter profit of $1.28 billion ($1.15 per share), compared to $1.26 billion ($1.07 per share) a year earlier. However, revenue of $7.88 billion missed estimates of $8.03 billion.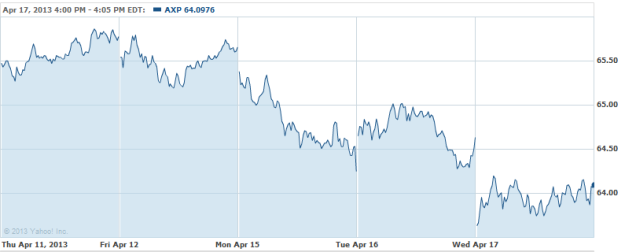 Apple (NASDAQ:AAPL) shares sank 5.5 percent on Wednesday, but stabilized in late afternoon hours. The wave of negative sentiment around the tech giant intensified as Cirrus Logic (NASDAQ:CRUS), which is widely believed to make analog and audio chips for the iPhone and iPad, announced a weaker-than-expected forecast. For the first fiscal quarter, the company expects revenue of $150 million to $170 million. Wall Street was expecting revenue above $190 million.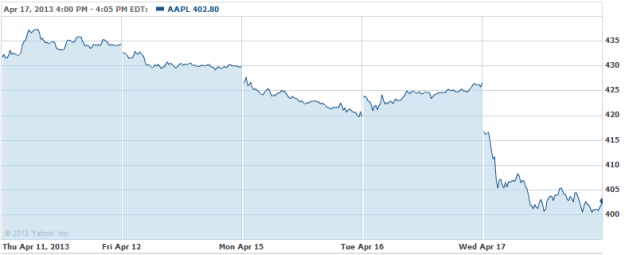 Don't Miss: Are Your Income Taxes Fair?