Radar Movers: Berkshire Hathaway Reports Impressive Results, Apple Gains 1%
Shares of Ford Motor (NYSE:F) jumped more than 3 percent on Friday. Ford's challenge of Toyota's dominance in gasoline-electric vehicles has begun to pay off. The company said it will pass its full-year record for hybrid sales in the United States in May, propelled forward by strong demand for its Fusion and C-Max models. For the month of April, hybrid deliveries hit 8,481 — a monthly record — bringing this year's total sales to 29,561, according to Erich Merkle, a U.S sales analysts at Ford. Shares of General Motors (NYSE:GM) also jumped 3 percent.

Berkshire Hathaway (NYSE:BRKA) (NYSE:BRKB) shares attracted attention in late afternoon hours. The company reported first-quarter operating earnings of $2,302 per Class A share, compared to $1,615 per share a year earlier. Book value increased 5.5 percent since the end of 2012.

Barnes & Noble (NYSE:BKS) increased more than 1 percent on Friday. In a move seen as a positive development, the company added Google Play (NASDAQ:GOOG) to its Nook tablets. The app store by Google allows users to get the content they sought but were denied in previous Nooks. Barnes & Noble has been seeking a way to get past its poor showing in the last holiday season and acknowledges that the limitations of Nook were a part of that performance.
Shares of Apple (NASDAQ:AAPL) gained 1 percent on Friday. Apple avoided $9.2 billion in taxes by choosing to fund its ambitious stock repurchase plan with U.S.-based debt rather than bringing some of its overseas cash reserves into the U.S., according to Moody's Investment Services. Although it's a common tax avoidance maneuver done by many companies that generate profit overseas, not every company can claim it was able to dodge such a large amount of potential taxes. Instead of shelling out $9.2 billion in taxes, Apple will only be paying a comparably paltry amount of $308 million a year in interest on its $17 billion bond deal.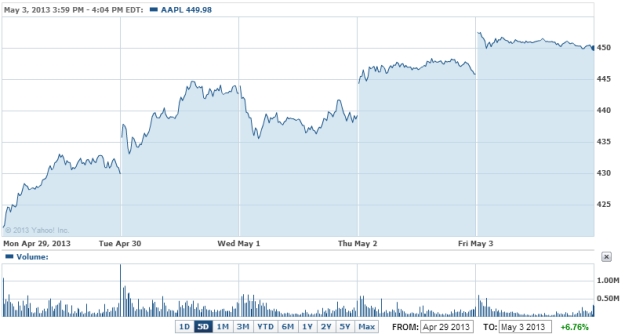 Don't Miss: Chart of the Day: These 5 Americans Giants Lead the Way